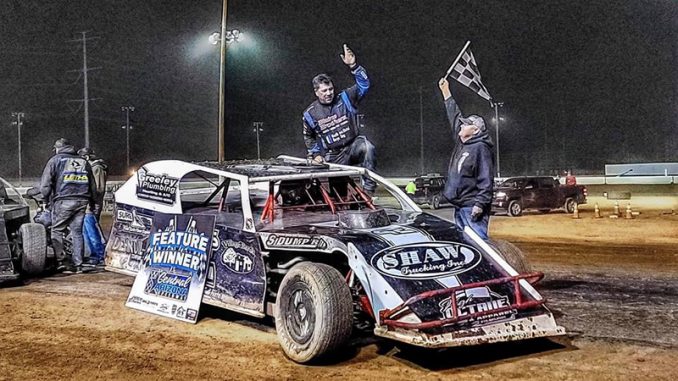 CASA GRANDE, Ariz. (Jan. 28 and 29) – A rare visit to Central Arizona Speedway saw Don Shaw sweep $1,000 to win IMCA Modified features at Casa Grande.
Shaw swept Friday and Saturday main events, taking the checkers ahead of fellow Minnesotan Matt Aukland both nights.
He led all 25 laps from the outside pole on opening night, then worked his way up from ninth starting on night two.
"The car was really good and we were able to pull away again following a yellow later in the race on Friday," said Shaw, newly eligible to qualify for the Fast Shafts All-Star Invitational. "I didn't know if I had what I needed to win it Saturday. I got stuck behind another car and fell back to about 12th before I found a good line in (turns) three and four and was able to pass some guys."
Restarts helped him stay close and ultimately catch Aukland for the front spot late in the contest.
Cody Thompson, Devon Fouquette and Spencer Wilson followed the front pair across the stripe as long tow competed Friday's top five. Chaz Baca, Troy Morris and Wilson ran 3-4-5 on Saturday.
Shelby Alves won her second IMCA Northern SportMod feature of the season on her birthday Friday while long-time Casa Grande runner Chris Tipton topped the Saturday show. 
Alves battled Clay Erickson following an early restart, then led the last 19 of 20 laps. Jesse Johnson was second and Scott Francour third as Alves edged away in a green, white, checkered finish.
"We put the car back together and chased some gremlins, and it feels like we're getting faster," said Alves, who became a spectator in 2021 following the birth of daughter Rowan. "It's fun to get back and win. This is a track that I've won a championship at. We've got a lot of laps here so that helps, too."
She came up one spot short of a second win, at the runner-up to Tipton on Saturday.
"She stuck her nose in there on each restart but I was able to stay in the right groove and hold her off," he said. "The high line was definitely the place to be on Saturday night."
The win, Tipton's first of 2022, came in his second start of the season and eighth in a 2014 rebuilt ride dating back to last year.
He's raced on and off for 40 odd years, getting his last win at Central Arizona in another older car, a DRS Missile in this case, about three years ago.
Jackie Frye raced from 15th starting to third.