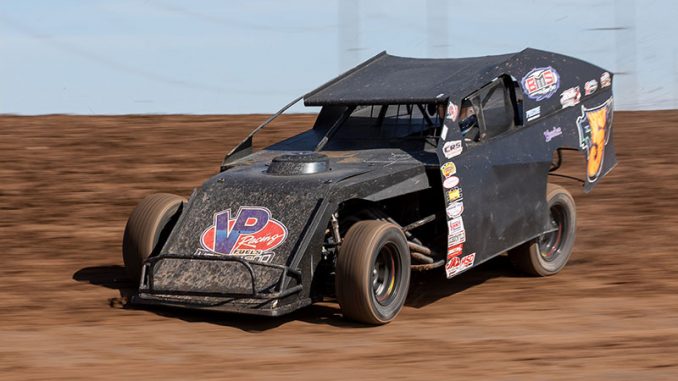 By Jackson Braun 
CASA GRANDE, Ariz. (Feb. 11) – There's a new sheriff in town and his name is Eddie.
Gillette, Wy.'s Eddie Kirchoff, a weekly contender back at home, grabbed the $1,500 Monday win at Central Arizona Speedway to become the 12th driver to win an Arizona Modified Tour feature in the IMCA Modified division.
He held off a hard-charging Ricky Thornton Jr. in lapped traffic to earn his victory, as it has been no small feat to fend off the 20RT machine this week.
Travis Olheiser and Kirchoff set the pace for the field coming to green. Kirchoff was fast off the start, but his advantage was erased by an early caution. 
Kirchoff led Drew Armstrong and Olheiser back to the green. Racing was close throughout the pack early on as drivers fought for every position they could get. The previous two features had gone without a yellow so these drivers knew the contest could very well go without another caution.
All the lead cars were hooked up around the high side as the field stretched out a bit. Tour front runners Thornton and Casey Arneson still searched for ways to get around the cars of Drew Armstrong, Tyler Mecl and Bricen James. Meanwhile, Kirchoff had checked out for the time being.
With 10 laps to go, Thornton was more than 3.5 seconds behind Kirchoff in third place. However, lapped traffic started to become a factor for the Wyoming hotshoe. Thornton threw multiple sliders on Armstrong to try and move up into second place, and it stuck with 4 laps to go. By this point, Kirchoff had a 1.3 second cushion over Thornton.
Thornton then started using the bottom line in turns three and four rather than most everybody else flying around the high side of the speedway. He got a massive run on Kirchoff and almost pulled up to him with three to go.
Thornton pulled even a lap later, but fell behind going back into the first set of turns. A mistake by Thornton off the exit of turn two might have cost him the race. In the last set of corners, Thornton tried another slider but Kirchoff was far enough ahead to stay in the lead and grab the checkers. Armstrong, Arneson, and Mecl completed the top five.
Kirchoff was already of the Fast Shafts All-Star Invitational ballot.
In the Karl Chevrolet Northern SportMods, Jake McBirnie has made himself a force to be reckoned with as he captured his second feature victory in four races on his maiden tour voyage.
McBirnie used his front row starting spot to his advantage as he was able to grab the lead from the get-go and never look back. The rest of the field had multiple opportunities to get by McBirnie, as the race was marred by yellows. Kevin Johnson and Tate Johnson both tipped on their hoods in separate incidents during the event.
McBirnie held off fellow Iowan Ethan Braaksma, with Fred Ryland, Bo Partain, and Chase Rudolf completing the top five. At the scales, Partain's machine was light, moving Kelly Jacobson to fifth.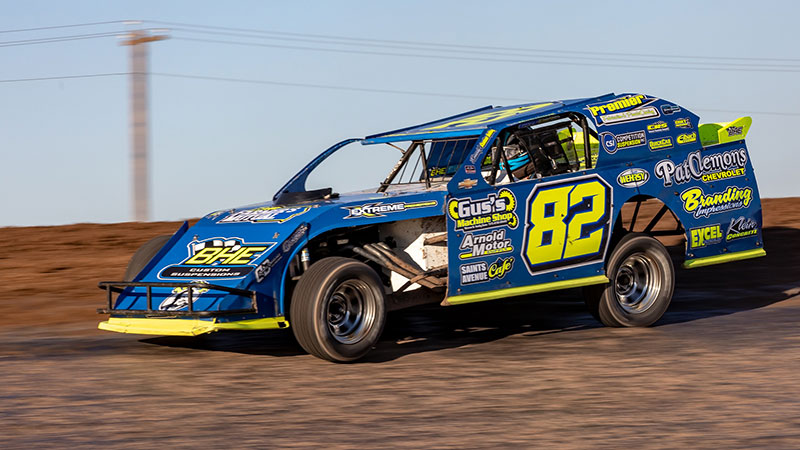 Feature Results
Modifieds – 1. Eddie Kirchoff, Gillette, Wy.; 2. Ricky Thornton Jr., Clive, Iowa; 3. Drew Armstrong, Benton, Ark.; 4. Casey Arneson, Fargo, N.D.; 5. Tyler Mecl, Queen Creek; 6. Bricen James, Albany, Ore.; 7. Tim Ward, Harcourt, Iowa; 8. Jake O'Neil, Tucson; 9. Shawn Strand, Mandan, N.D.; 10. Kody Scholpp, Estevan, Sask.; 11. Robert Hellebust, Minot, N.D.; 12. Hunter Marriott, Brookfield, Mo.; 13. Jason Hughes, Watts, Okla.; 14. John Hansen, Brush, Colo.; 15. Zachary Madrid, Tucson; 16. Jeff Taylor, Cave City, Ark.; 17. Justin Kay, Wheatland, Iowa; 18. Travis Denning, Sterling, Ill.; 19. Nick O'Neil, Tucson; 20. Jacob Pace, Kearny; 21. Clay Money, Penokee, Kan.; 22. J.P. Dowell, Killen, Texas; 23. Alex Stanford, Chowchilla, Calif.; 24. Casey Skyberg, Rapid City, S.D.; 25. Travis Olheiser, Dickinson, N.D.; 26. Jeff Larson, Freeport, Ill.
Northern SportMods – 1. Jake McBirnie, Boone, Iowa; 2. Ethan Braaksma, Newton, Iowa; 3. Fred Ryland, Brentwood, Calif.; 4. Chase Rudolf, Prole, Iowa; 5. Kelly Jacobson, Fargo, N.D.; 6. Matthew Mayo, Bakersfield, Calif.; 7. Arie Schouten, Blair, Neb.; 8. Brady Bjella, Williston, N.D.; 9. Cole Carver, Apache Junction; 10. Dwayne Melvin, Medford, Ore.; 11. Mark Harrison, Coolidge; 12. Justin Svoboda, David City, Neb.; 13. Heath Dry, Phoenix; 14. Taylor Kuehl, Cave Creek; 15. Matt Mayo, Bakersfield, Calif.; 16. Tate Johnson, Homestead, Mont.; 17. Shelby Frye, Casa Grande; 18. Terry Bahr, Gilbert; 19. Kevin Johnson, Bakersfield, Calif.; 20. Andy Clower, Laveen; 21. Brian Osantowski, Columbus, Neb.; 22. Keith Brown Jr., Pittsburg, Calif.; 23. Jim Horejsi, Marshall, Minn.; 24. Jarrod Mounce, Atwater, Calif.; 25. Bo Partain, Casa Grande.