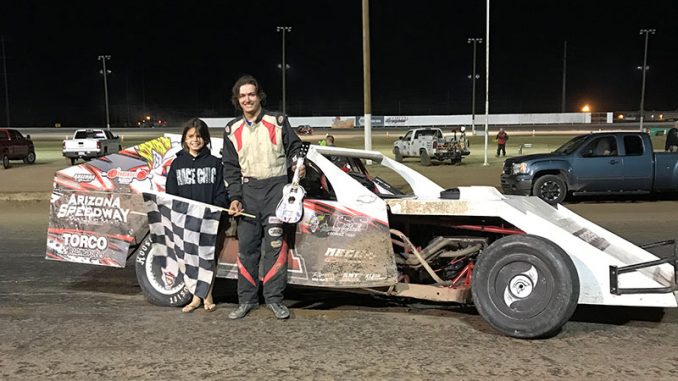 CASA GRANDE, Ariz. (May 12) – Persistent Tyler Mecl and a very fast Jason George were IMCA win­ners Saturday at Central Arizona Speedway.
Mecl used the outside of the speedway to surprise Jeremy Thornton and take over the lead com­ing to the stripe to complete the ninth lap of the IMCA Modified main.
From there, Mecl weathered one last caution on lap 12 to take the checkered flag by more than two seconds over Thornton and Trevor Mille.
Jason George shot from fifth to first, somehow going lower on the speedway than the three-wide trio of Gerry Glenn, Mark Farnes and Chris Tipton on the first lap of the Karl Chevrolet North­ern Sport Mod feature.
George pulled away to a full straightaway lead by the halfway mark and simply checked out over the last 10 laps of the race. George crossed the finish line almost nine seconds ahead of Glenn.