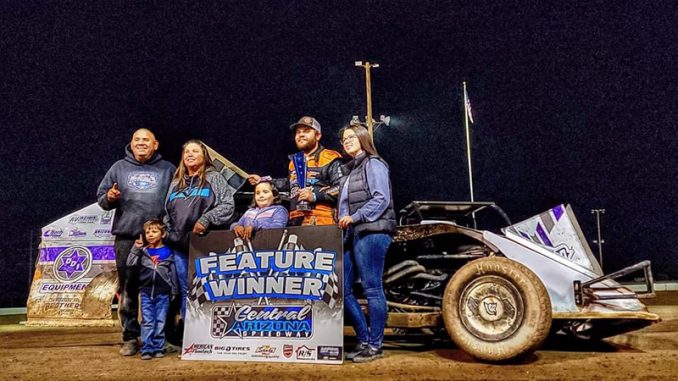 CASA GRANDE, Ariz. (Jan. 21) – Winning the first feature of the night helped Zachary Madrid win the last one.
Madrid was a double winner in the 2022 lidlifter at Central Arizona Speedway, topping both the IMCA Sunoco Stock Car main event and the IMCA Modified headliner. While he's won two IMCA features twice on the same night before at other venues, Friday marked the first time he accomplished the feat at Casa Grande.
"The track was heavy. Running the Stock Car feature first helped me a ton figuring out where to run and what line I should follow in the Modified," Madrid said. "I ran high in (turns) three and four, the middle to bottom in one and two, and wherever I could to get through traffic."
He crossed the stripe ahead of Scott Sluka and Eric Lloyd in the Stock Car feature. Jacob Pace and Kelsie Foley ran 2-3 in the Modified finale.
"Everything worked out for us pretty good," said Madrid, who earned Fast Shafts All-Star Invitational qualifying eligibility along with the $1,000 Modified triumph. "You always want to start the year with wins so we've got no complaints there."
Russell Allen and Chaz Baca completed the Modified top five. Baca had started that race from 18th.
In between Madrid's victories, Clay Erickson was the winner in his first IMCA Northern SportMod start of 2022.
Erickson started outside the front row and ran side-by-side with Shelby Alves early before leading the last 18 times around the oval.
Cautions kept the contest close in the final laps but Erickson stuck with the high line and took the checkers ahead ahead of the persistent Alves and Dakota Girard.
"It was pretty exciting. We haven't always had the best of luck here," he said. "Hopefully we'll be able to turn our luck around and keep going from there."