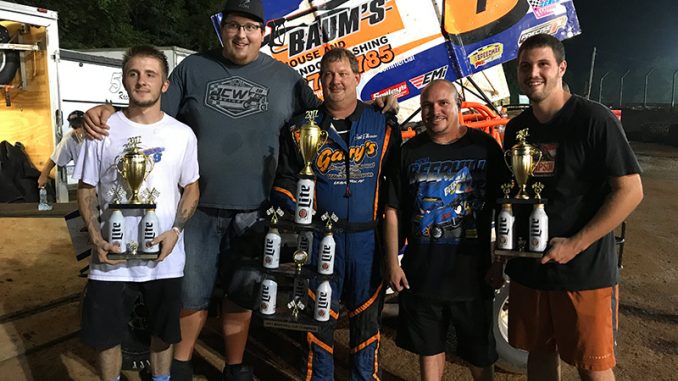 MECHANICSBURG, Pa. (Aug. 18) – The final Beer Hill Cup was a typical thrilling race but the greatest accomplishment was an education for fans what a true level playing field can do for racing and what RaceSaver rules and purse structure do to give talented racers and crews a chance to compete every week on the ultimate level playing field.
Champion Scott Ellerman is a perfect example as the talented veteran has remained competitive over many of the nearly 20 years PASS has been racing.
Ellerman's team and car owner Richard Snader run on a very limited budget and still manage to be highly competitive, holding off some excellent new talent on Friday night and throughout the series.
In the final tally of six races, just 17 points separated the top three but the close competition on the track also reflected a friendship and respect in the pits as the top teams all congratulated each other.
Friday night as rain threatened the final race a tally was taken among top teams and everyone agreed that if they had to run it Sunday at Susquehanna they would settle the championship.
Darren Miller led the points Friday and when asked whether the rain date would be possible for his team, quickly said "It needs to be decided on the track" knowing full well he could have walked away with the title if no rain date was scheduled.
Weather co-operated and 45 cars showed up for the co-sanctioned event between the Mid-Atlantic Sprint Series and PASS. Miller fought back from a poor pill draw to garner a 10th place finish and tie for second place with Colby Dice.
Dice and Miller split the payout and in true PASS fashion the second and third place trophies were decided by rock, paper, scissors. Dice, who had held the top position in Beer Hill Cup points for much of the series, came home ninth in a field packed with talented teams.
Zach Newlin and Cale Reigle finished out the top five with fifth and 11th place finishes.
A total of 79 teams competed with the balance of the top 10 going to Tyler Reeser, Kyle Ganoe, Ken Duke Jr., Jaremi Hanson and Jon Haegle, who made the long tow for all six races.