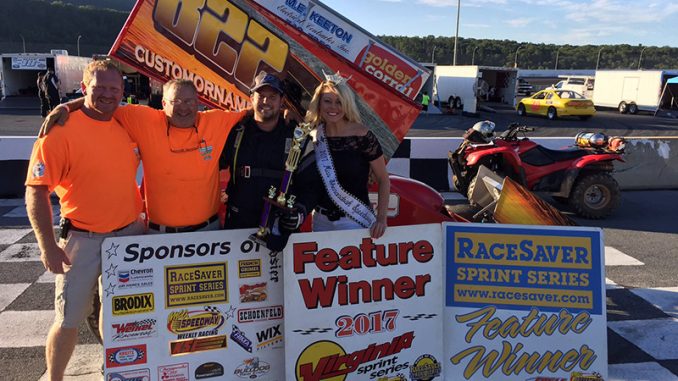 By Jim Haines
SHENANDOAH, Va. (July 29) – Ryan Price has been close to his first win numerous times over the years.
With three laps to go in the Saturday Virginia Sprint Series feature at Shenandoah Speedway, he made the move for the lead and it stuck.
Price got a run on the outside of leader Mike Keeton on the backstretch and went on to his first victory.
Charlie Ware and Keeton paced the field to green with Keeton out on top and Anthony Linkenhoker close behind quickly. Mike Leraas joined Linkenhoker and Keeton at the front as Price was racing with Tony Harris for fourth.
At halfway, Keeton, Linkenhoker, Leraas, Harris and Price were all in row. Price made his move, first getting by Harris then catching Leraas. Price found the line he needed with six to go to get by Linkenhoker, then set his sights on Keeton.
The Virginia Sprint Series next heads to Dixieland Speedway in Elizabeth City, N.C., on Aug. 11 for the final Fast Friday race of the year and then to Eastside Speedway in Waynesboro, Va., on Saturday Aug. 12.
Feature results – 1. Ryan Price; 2. Mike Keeton; 3. Anthony Linkenhoker; 4. Mike Leraas; 5. Tony Harris; 6. Chris Ware; 7. Bill Rice; 8. Charlie Ware; 9. Josh Perreault; 10. Jack Rice.