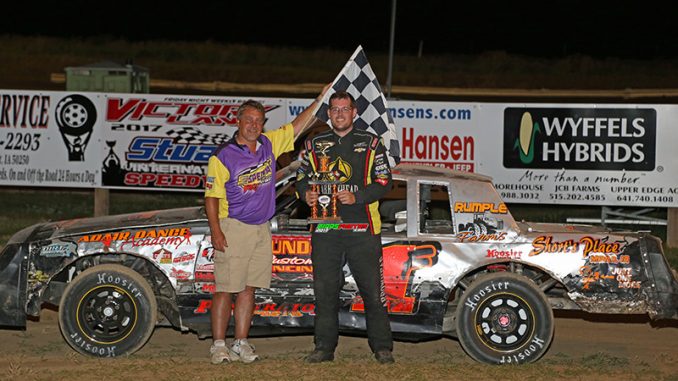 By Josh Reynolds
STUART, Iowa (July 7) – Marcus Fagan was the $1,000 winner of Stuart Speedway's Stew Hansen Dodge-Jeep IMCA Sunoco Stock Car Shootout.
Fagan and Robert Stofer were the front row starters for Friday's 25-lap event. Fagan took control early with Stofer and Brandon Pruitt close behind.
The top two stayed the same with Pruitt and Michael Murphy racing hard for third until a lap 16 caution flew. Pruitt exited with mechanical issues and Fagan, Stofer and Keith Simmons restarted in the front three spots.
Stofer threw everything he had at Fagan, but the leader was too strong and went on to the feature win and the $1,000 payday. Stofer finished second with Simmons third, Cory Bushnell fourth and Josh Dan­iels fifth.
Feature results – 1. Marcus Fagan; 2. Robert Stofer; 3. Keith Simmons; 4. Cory Bushnell; 5. Josh Dan­iels; 6. Derrick Rohe; 7. Matthew West; 8. Adam Hensel; 9. Chris Pruitt; 10. Kyle Rose; 11. Cody Gustoff; 12. Andrew Knode; 13. Jordan Riesberg; 14. Brandon Pruitt; 15. Michael Murphy; 16. Bill Fox; 17. Mike Albertson; 18. Brock Badger.