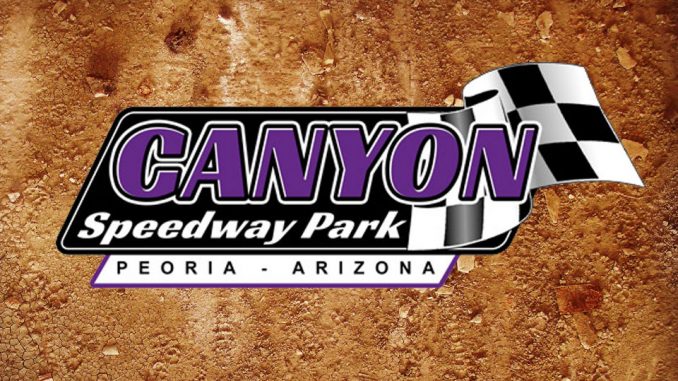 By Tony Steele
PEORIA, Ariz. (March 17) – Guy Norton rebounded from a rough winter season to take home a victory, leading from the drop of the green in the IMCA Modified feature Friday at Canyon Speedway Park's Shamrock Showcase.
After a rough outing one week ago, the division stepped up with the show of the year so far in 2017 at CSP. An early spin in turn three on the first lap of the main event involving Austin Kuehl took out a couple strong cars, including Mike Strobl and Bryson Curry.
Once the green flag was displayed a second time, we would see no more cautions as the Modifieds went green to checkers to finish the race. Norton started up front and led all 25 laps en route to a dominating victory.
The story of the night may lie with Norton, but the show was the race-long battle for second place with Jason Noll fighting with John Parmeley. Eventually, Chaz Baca joined the battle for a handful of laps before coming away with second. Noll won out in his fight with Parmeley, taking home third place honors while Bubba Stafford made a pass on Parmeley during the last lap to take fourth.
J.C. Parmeley held off a hard charging Jason George to get his first points win of the year, and second overall at Canyon in the Karl Chevrolet Northern SportMods. Aaron Spangler ended the winning streak of point leader George Fronsman in the IMCA Sunoco Stock Cars and Bradley Stafford took home the IMCA Sunoco Hobby Stock win with a last-lap pass of Joe Peterson