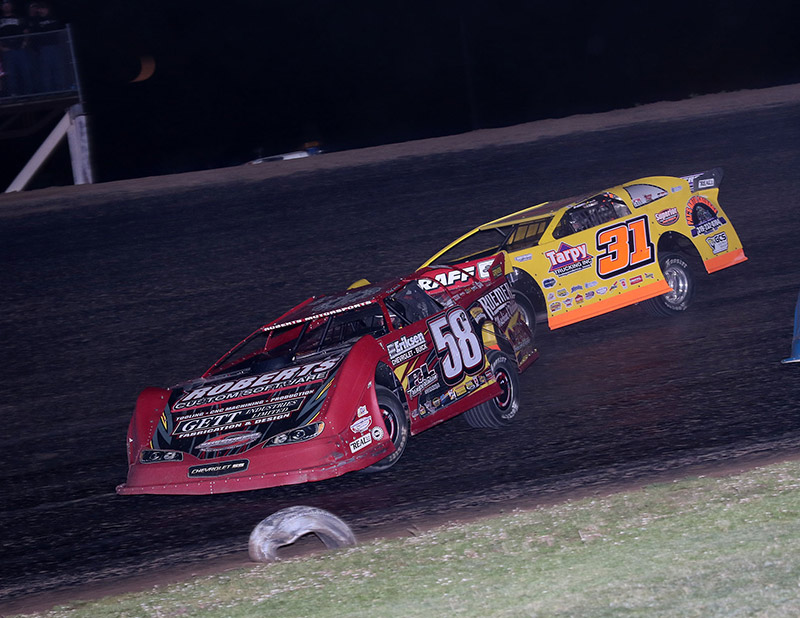 MARSHALLTOWN, Iowa (June 7) – It's been a few years since the last time he won an IMCA Late Model series race there, but Ray Guss Jr. put on a Deery Brothers Summer Series clinic Tuesday night at Marshalltown Speedway.
Guss started outside Joel Callahan on the front row, took the lead on the second circuit and ran the rest of the 50-lapper without serious challenge.
The $2,000 victory was the series career 31st for Guss, also the Deery winner at Marshalltown in 1989 and 2009. His latest checkers came ahead of Tyler Droste, Ryan Dolan, Callahan and Cayden Carter.
"We were pretty decent in the heat race. We only made a few adjustments to make the car turn better," said Guss. "Once we did that, it worked. We hit on something and hopefully it works that way again the next time."
Guss had already checked out when back-to-back yellows flew on lap 19 and he was quick to pull away from the pack when the race returned to green. Four lapped cars were running between Guss and Droste at the finish.
"Droste and these other young bucks are hard to beat. I ran second to Tyler in the Tri-State Challenge at Dubuque (on May 29) and the car was close then," Guss said. "Last Friday we tried some things at Davenport and went from ninth starting to a solid third in 25 laps that went non-stop. We were definitely on a rail tonight."
Guss piloted the Larry Eckrich and Precision Performance Flying 50 to the checkers in his first-ever visit to Marshalltown in 1989, while the 2009 win came during his first season driving for Hershel and Kenny Roberts.
Greg Kastli won the Malvern Bank Non-Qualifier Dash for Cash and $300. Winner of the $250 Sunoco Race Fuels feature qualifier drawing was John Emerson.
With five different winners in as many events, the 30th annual Deery Series is next at West Liberty Raceway for another $2,000 to win show on Tuesday, June 14.
Joel Rust was the winner of the Hawkeye Dirt Tour feature for Xtreme Motor Sports IMCA Modifieds at Marshalltown. Damon Murty won the IMCA Sunoco Stock Car feature.
Feature results – 1. Ray Guss Jr., Milan, Ill.; 2. Tyler Droste, Waterloo; 3. Ryan Dolan, Lisbon; 4. Joel Callahan, Dubuque; 5. Cayden Carter, Oskaloosa; 6. Denny Eckrich, Tiffin; 7. Joe Zrostlik, Long Grove; 8. John Emerson, Waterloo; 9. Andy Eckrich, Oxford; 10. Darrel DeFrance, Marshalltown; 11. Richie Gustin, Gilman; 12. Tyler Bruening, Decorah; 13. Curt Schroeder, Newton; 14. Jeff Aikey, Cedar Falls; 15. Matt Ryan, Davenport; 16. Chad Holladay, Muscatine; 17. Andy Nezworski, Buffalo; 18. Rob Toland, Davenport; 19. Eric Pollard, Peosta; 20. Gary Webb, Blue Grass; 21. Scott Fitzpatrick, Wheatland; 22. Jason Rauen, Farley; 23. Kyle Hinrichs, Swisher; 24. Curt Martin, Independence.
1st heat (top three) – 1. Guss; 2. Holladay; 3. Droste; 4. DeFrance; 5. Gustin; 6. Bruening; 7. Todd Cooney, Des Moines; 8. Andy Eckrich; 9. Hinrichs.
2nd heat – 1. Callahan; 2. Zrostlik; 3. Nezworski; 4. Fitzpatrick; 5. Emerson; 6. Greg Kastli, Waterloo; 7. Ryan; 8. Mark Hurst, Denver.
3rd heat – 1. Webb; 2. Denny Eckrich; 3. Dolan; 4. Toland; 5. Ben Seemann, Waterloo; 6. Kip Siems, Cedar Falls; 7. Havlik; 8. Gabe Umbarger, Garner.
4th heat – 1. Aikey; 2. Carter; 3. Martin; 4. Rauen; 5. Pollard; 6. Jason Hahne, Webster City; 7. Schroeder; 8. Charlie McKenna, Clear Lake.
1st "B" feature (top four) – 1. Gustin; 2. Bruening; 3. DeFrance; 4. Andy Eckrich; 5. Seemann; 6. Siems; 7. Hinrichs; 8. Toland; 9. Cooney; 10. Umbarger.
2nd "B" feature – 1. Fitzpatrick; 2. Emerson; 3. Ryan; 4. Rauen; 5. Kastli; 6. Emerson; 7. Hurst; 8. Hahne; 9. Schroeder; 10. McKenna.
Dash for Cash – 1. Kastli; 2. Seemann; 3. Siems; 4. Hurst; 5. Havlik.