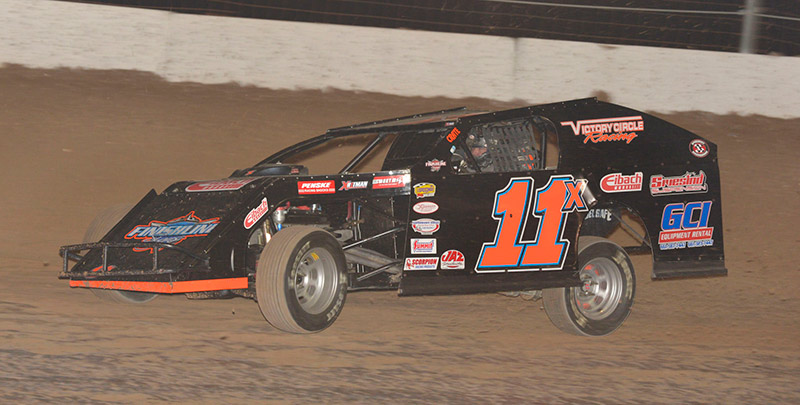 LAS VEGAS, Nev. (March 4) – For all his Xtreme Motor Sports IMCA Modified career accomplishments, Friday's victory at Las Vegas Motor Speedway was a first for Bobby Hogge IV.
The Salinas, Calif., veteran raced from 13th starting to win the main event at the half-mile Dirt Track. The victory was his first in the class at LVMS since he started racing at the Duel In The Desert in the 1990s.
"It was a good race for us all night. Obviously, racing from 13th was exciting," said Hogge. "I've missed maybe three Duels In the Desert and this was my first win here in a Modified. It's pretty neat to get that monkey off my back."
The checkers were good for $750 and came in a borrowed ride. A night after sweeping the top three positions, Bill Henderson-owned cars finished 1-2 as Cody Laney repeated as runner-up.
Hogge and Laney swapped slide jobs before Hogge took the lead with five circuits left in the 25-lapper. His margin of victory was close to five car lengths.
"Once I got the lead I tried to make sure I didn't make any mistakes with Cody running behind me," said Hogge, who'd been third in the Thursday show. "Our cars are pretty much identical."
Casey Delp, Logan Drake and Ethan Dotson finished third through fifth, respectively.
Thirty-nine cars were on hand at LVMS for a second straight night.
Feature results – 1. Bobby Hogge IV, Salinas, Calif.; 2. Cody Laney, Torrance, Calif.; 3. Casey Delp, Rock Springs, Wyo.; 4. Logan Drake, San Luis Obispo, Calif.; 5. Ethan Dotson, Bakersfield, Calif.; 6. Robert Sanders, Bakersfield, Calif.; 7. Kenny Wallace, Concord, N.C.; 8. Josh Vogt, Santa Maria, Calif.; 9. Randy McDaniel, Olivehurst, Calif.; 10. Jake Donnelly, Rigby, Idaho; 11. Clay Daly, Watsonville, Calif.; 12. Mike Kirby, Lomita, Calif.; 13. Kevin Irwin, Bakersfield, Calif.; 14. Wade Taylor, Spring Creek; 15. Steve Simpson Jr., Kingman, Ariz.; 16. Clifton King, Pahrump; 17. Hunter Marriott, Brookfield, Mo.; 18. R.C. Whitwell, Tucson, Ariz.; 19. Justen Yeager, Green River, Wyo.; 20. Nick Nelson, Farmington, N.M.; 21. Jim Perkins, Williams, Ariz.; 22. Paul Stone, Winton, Calif.; 23. Mitch Dickinson, Richfield, Utah; 24. Colt Mather, Keswick, Iowa.