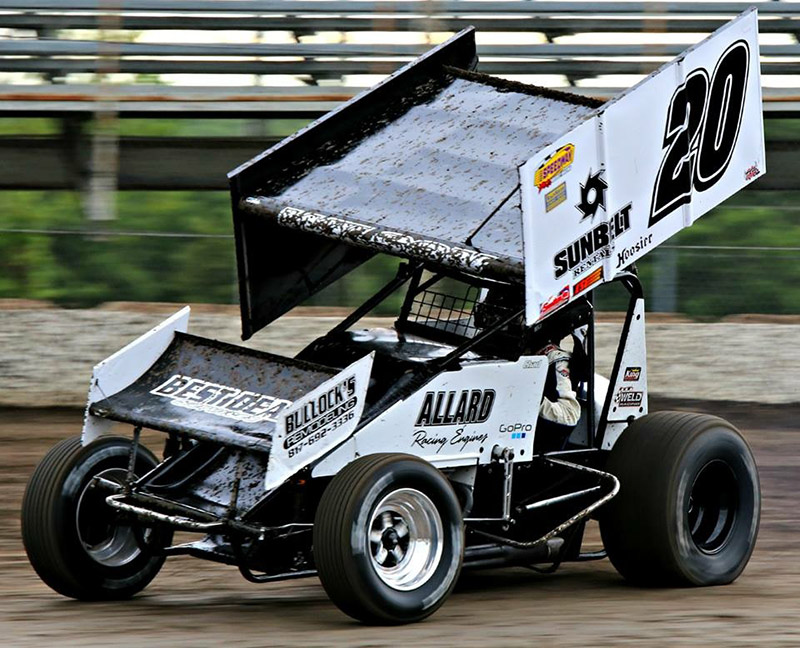 NORTH RICHLAND HILLS, Texas – A solid month of rain in Texas sent Chad Wilson out of state to keep his sprint car racing skills sharp, but probably not the way you'd expect.
Wilson had raced his way to the top of the IMCA Eagle Motorsports RaceSaver Sprint Car na­tional point standings by winning the May 2 main event at Kennedale Speedway Park.
Then the dark clouds moved in to stay and the North Richland Hills, Texas, pilot didn't get back on the big dirt tracks until after the calendar had flipped over to June.
"We had rain like crazy. We had like 11 rainouts and didn't race for a solid month," Wilson said. "I didn't think I had a chance at the national championship so what I was doing was driving four hours to race radio controlled sprint cars in Lawton, Okla."
Using a hand control to accelerate, brake and steer a 1/10 scale sprinter kept the competitive fires stoked and Wilson was ready to resume what would prove to be a successful pursuit of the national title when the rain let up.
"Some of the same things you do with an RC car you do in a big car, so it definitely helped," he said. "If you're a fan, Sprint Cars get you on your feet. As a driver, I like the speed. You drive wide open into the turn, the car sticks and then it turns."
Consistent finishes through mid-July put Wilson back in the lead nationally. Six wins over the course of his next nine starts helped cement his place there.
He ended the season with nine wins and 20 top five's, plus the Kennedale Speedway Park track and Allstar Performance State titles.
"Winning the national championship was something I'd always wanted to accomplish and I knew it was possible if I stayed with it," Wilson said. "You have to be dedicated to win a national champion­ship. You can't ever think that you've got it in the bag."
Dedication and determination have both been long-time assets for Wilson, who was paralyzed for seven months after breaking his back while racing 4-wheelers in 2004.
Looking for a safer option when he got back into the sport, Wilson settled into the winged division. An IMCA rookie in 2012, he finished third in the national point standings the next season and fourth last year.
"This was the first time we stayed with the national points chase. The last two years we had to quit early but still did pretty good in the standings," Wilson said. "This year we stayed with it and finished it off."
One out-of-state trip with his full-sized car provided another season highlight. Wilson was runner-up at the Sprint Car Nationals, held at Nebraska's Eagle Raceway in September.
"That was probably my most exciting race of the year," he said. "I have never raced against so many guys who were that good and we never touched."
Starts-39 … Wins-9 … Additional Top Fives-20
HIS CREW: Brother Corey, mother Dayna, aunt Debbie Frye, car owner Mike George, Jamie Harris and Brant Whitley.
HIS SPONSORS: Jeremy and Danielle Hefler at Best Deal Service and Gloecker Underground Construc­tion, both of Fort Worth; and Jimmy Allard Racing Engines of Ennis.
30