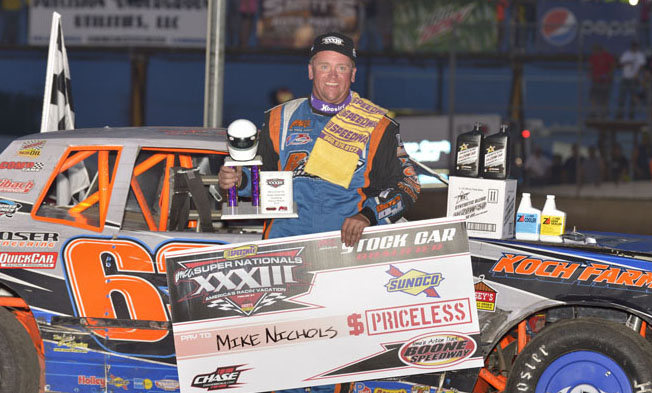 BOONE, Iowa (Sept. 9) – Mike Nichols and Chris Mills both ended their night Wednesday in Boone Speedway's victory lane.
How they got there couldn't have been more different.
Nichols started on the front row and won the first IMCA Speedway Motors Super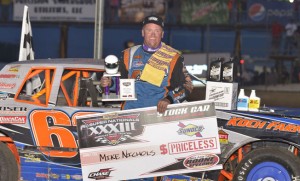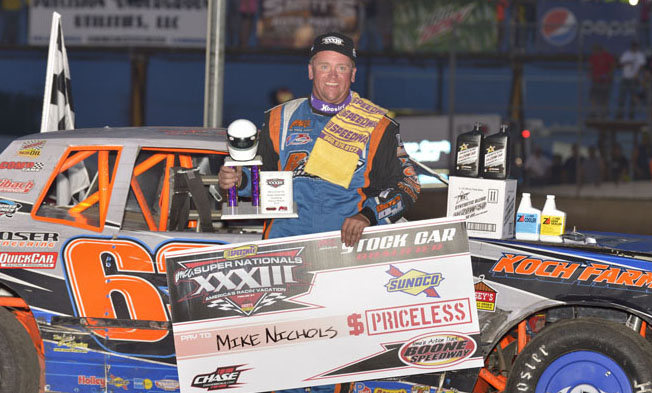 Nationals fueled by Casey's Stock Car qualifying feature with a flag-to-flag run slowed by just a single caution.
Mills was the fourth and final different leader in a nightcap interrupted by half a dozen yellows. The former Modified driver and 14th place starter ran in front the last three times around the track.
Top four finishers from both races advance to Saturday's main event and Nichols, two-time champion Randy Brands, Ken Tietz and Derek Green pulled away from the rest of the pack before and after the single stoppage in the opener, on lap seven.
They finished in that order but Green was disqualified in post-race tech for an illegal connecting rod, promoting Norman Chesmore to the big show.
Brandon Czarapata looked every bit as fast as he was in winning the 2013 Super Nationals title, leading past midway before going up in smoke and relinquishing the lead to Damon Murty.
Murty lost the handle and gave way to Jake Masters, whose turn up front last a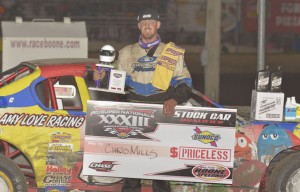 single lap. Mills drove by and led Murty, 18th starting Bob Daniels and Marcus Fagan across the stripe.
Fagan had raced his way back into the top four after exiting with a flat tire after midway.
Nichols and Murty, twice runner-up, both advance to the Saturday show for the 11th time. Tietz makes his fifth career start while Brands is in for the fourth time, and the first since 2005.
Fagan and Chesmore are three-time qualifiers. Daniels starts his second main event, Mills his first in a Stock Car.
A Thursday Rochambeau session in the Fan Zone will determine starting positions one through eight on the inside row for the main event.
A Super Nationals record 192 Stock Car drivers from 11 states and Canada competed Wednes­day; the previous mark of 191 had been set in 2012.
1st qualifying feature results – 1. Mike Nichols, Harlan; 2. Randy Brands, Boyden; 3. Kenneth Tietz, Belle Plaine, Minn.; 4. Norman Chesmore, Rowley; 5. Shaun Bruns, Danube, Minn.; 6. Trent Murphy, Jefferson; 7. Chris Palsrok, Sibley; 8. Colby Deming, Hobbs, N.M.; 9. Casey Woken, Norton, Kan.; 10. Dan Mackenthun, Hamburg, Minn.; 11. Shawn Primrose, Norfolk, Neb.; 12. Dustin Larson, Worthington, Minn.; 13. Brian Blessington, Breda; 14. Rodney Richards, Madrid; 15. Stefan Sybesma, Sanborn; 16. Casey Jones, Sioux City; 17. Brad Whitney, Trenton, Mo.; 18. Bryan Snell, Coon Rapids; 19. Casey Sebastian, Cresco; 20. Derek Moede, Casco, Wis.; 21. Dalton Flory, Williston, N.D.; 22. Lance Deal, Fort Dodge; 23. Jeff Mueller, New London; 24. Blake Peeler, Trimble, Mo.; 25. Jeff McCollum, Mankato, Minn.; 26. Kevin Parks Jr., Davenport, Neb.; 27. Derrick Agee, Huntsville, Mo.; 28. Matt Speckman, Sleepy Eye, Minn.; 29. Roger Verdoorn, Sibley; 30. Derek Green, Granada, Minn.
2nd qualifying feature results – 1. Chris Mills, Sioux City; 2. Damon Murty, Chelsea; 3. Bob Dan­iels, Des Moines; 4. Marcus Fagan, Adair; 5. Barrett Wagoner, Colby, Kan.; 6. Jeff Tubbs, Colby, Kan.; 7. Matthew West, Kellerton; 8. Mike Stapleton, Denison; 9. Colin Deming, Hobbs, N.M.; 10. Ron Pettitt, Norfolk, Neb.; 11. Reid Keller, Webster City; 12. Gary Bass, Des Moines; 13. Kevin Opheim, Mason City; 14. Dave Plowman, Omaha, Neb.; 15. Andrew Altenburg, Tru­man, Minn.; 16. Jake Masters, Graettinger; 17. Travis Prochaska, Iowa Falls; 18. Chris Luloff, Independence; 19. Justin Temeyer, Independence; 20. Kyle Clough, Wallace, Neb.; 21. Todd In­man, Altoona; 22. Matt Guillaume, Haslet, Texas; 23. Kirk Martin, Weatherford, Texas; 24. An­drew Knode, Adel; 25. Brandon Czarapata, Pulaski, Wis.; 26. David Smith, Lake City; 27. Abe Huls, Carthage, Ill.; 28. Don Vis, Marshalltown; 29. Max Hoffer, Sioux City; 30. Matt Deaton, New­ton.