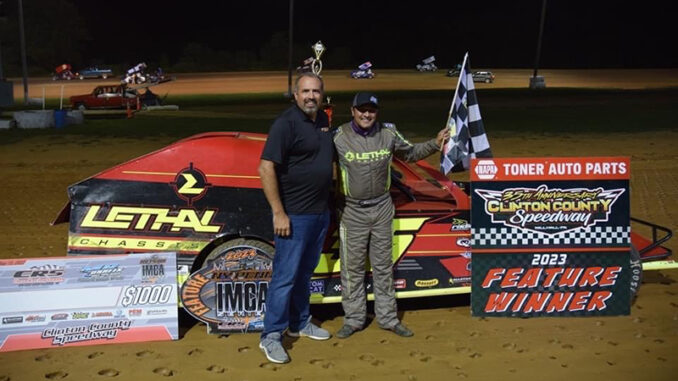 By Paul Szmal
FORT HILL, Pa. (Sept. 15, 2023) – A 20-car field made the trip to Clinton County Speedway on Friday night to contest the next round of the NY-Penn MCA Modified Series presented by Close Racing Supply and presented by M. R. Graphix.
Ken Schrader and David Stremme were part of the field looking for the winner's payday and it was Stremme who would ultimately earn that $1,000 check plus Fast Shafts All-Star Invitational qualifying eligibility.
Eddie Sites looked to maintain his point lead going into the first race of a doubleheader weekend for touring Friesen Performance IMCA Modifieds. Jake Maynard and Rodney Morgan brought the field to the green flag, with Morgan grabbing the early lead.
Stremme and Rich Michael Jr. started 10th and 12th, respectively, with Stremme breaking out first, moving to third by lap five and pressuring Maynard for second.  Michael cracked the top five on lap six and battled with Keith Jack Lamphere and George Dixon as the first caution flew for debris on lap seven.
Under the caution, Dixon pulled up in turn four and stopped, needing a push to the pit area. On the restart, Stremme lined up alongside race leader Morgan on the inside of the front row, with Stremme taking over the lead while Lamphere fought with Maynard, taking third.
Michael slid wide in turn four and lost several spots, dropping into eighth in front of Schrader. Lamphere had contact with another car and fell back to sixth as Brad Sites jumped forward to third. Schrader's night ended with a mechanical issue just before the halfway point, as he headed pit side with Shawn Bruce.
Eddie Sites, who broke a suspension part in the right rear during his heat race, dodged a jamfest on the backstretch and moved into the top 10 after starting last.
After a quick yellow on lap 16, racing resumed with Stremme and Morgan pulling away while 
Brad Sites, Maynard and Michael battled for third as Eddie Sites advanced to sixth, then passed Maynard for fifth one lap later.
Stremme held off Morgan  following the final restart on lap 22 to take the victory by five car lengths over Morgan, followed by Brad Sites, Michael and Eddie Sites.