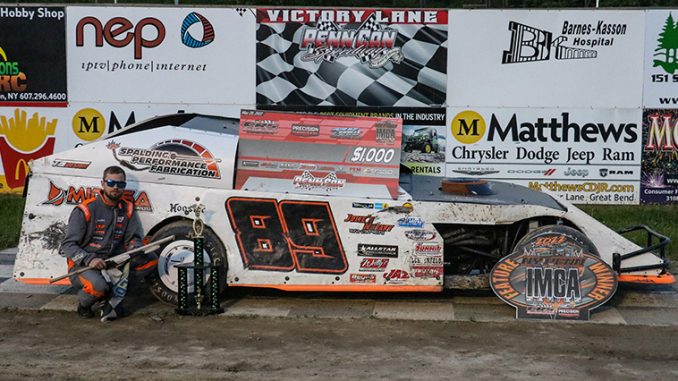 By Evan Canfield  
SUSQUEHANNA, Pa. (May 29, 2022) – Rodney Morgan made his way to victory lane when touring Friesen Performance IMCA Modifieds made their way to northern Pennsylvania for a Memorial Weekend event. 
Morgan outran Keith Jack Lamphere in the race for $1,000 and Fast Shafts All-Star Invitational qualifying eligibility in Sunday's Close Racing Supply NY-Penn IMCA Modified Series presented by Precision Hydraulic & Oil Sunday at Penn Can Speedway.
Aaron Benjamin and then Shawn Bruce led early in the 25-lapper. Tour opening night winner Eddie Sites was first to close in on the top spot, making his way to second with eighth starting Morgan, 13th starting Lamphere and 11th starting Jake Maynard close behind.
The race for the lead got intense by lap seven, as Sites wheeled the top and Bruce and Morgan ran inside, racing three-wide around much of the Susquehanna oval.
As things were heating up, a miscue Bruce sent him and Sites spinning while collecting nearly half a dozen other cars outside the top five in the process. That incident handed the lead to Morgan, a winner at Penn Can Speedway last year, closely followed by Lamphere and Maynard.
Morgan and Lamphere then took off from the field, with Maynard closely behind. Maynard and then Sites fell off the pace, while Lamphere tried unsuccessfully to make up ground on the leader.
Morgan went on to claim his second career series victory, with Lamphere following in his tire tracks for second. Brad Sites, Brad Smith and Jacob McConnell rounded out the top five.
Recipients of Bob Harris Enterprises shock certificates were Benjamin and Joe Novak. Brad Sites got the PEM certificate for a free set of gears, Jason Sullivan won the $50 Allstar Performance drawing and $50 Wilwood Racing certificate recipients were Lamphere and Mike Stoddard.
The third race of the 2022 NY-Penn IMCA Modified Series season will be at The Hill Speedway in Monroeton, Pa., on Friday, June 10.
Feature results – 1. Rodney Morgan; 2. Keith Jack Lamphere; 3. Brad Sites; 4. Brad Smith; 5. Jacob McConnell; 6. Shawn Bruce; 7. Jason Sullivan; 8. Aaron Benjamin; 9. Joe Novak; 10. Eddie Sites; 11. Matt Roberts; 12. Jake Maynard; 13. Tyler Stoddard; 14. Mike Stoddard.