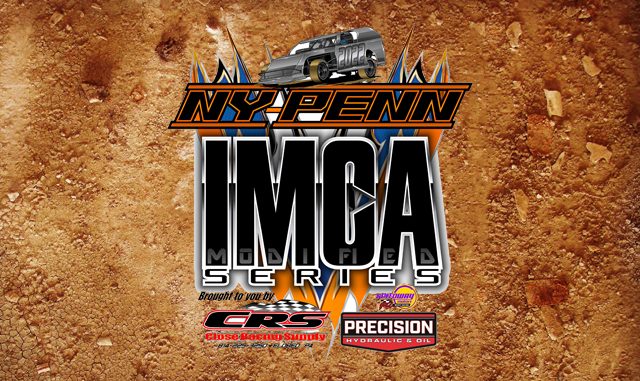 BRIDGEPORT, N.J. – More is at stake than a $2,000 payday in the opener for the Close Racing Supply NY-Penn IMCA Modified Series presented by Precision Hydraulic & Oil March 26 at Bridgeport Speedway.
The driver taking home that top check writes his or her name in the record book as the winner of both the first-ever IMCA Modified event in New Jersey and the first leg of the Allstar Performance Modified Challenge, while earning Fast Shafts All-Star Invitational qualifying eligibility.
"There are a lot of drivers from New York and Pennsylvania working hard to get their cars built and ready for opening night," said tour and regional director Jake Maynard said. "There's been a lot of interest in Michigan and we're expecting 13 or 14 guys from there, too."
Ken Schrader will join the IMCA regulars at Bridgeport and 2021 national rookie of the year Cody Thompson was the first entry from the Midwest.
The idea behind the Bridgeport date, branded as the Battle of the Highbanks 30, came from Joe Infante at Precision Hydraulic & Oil, a tour and IMCA sponsor, who thought the IMCA Modifieds would be perfect for the big, wide Bridgeport oval.
Talks with promoter Doug Rose ensued and IMCA's calling card division soon found itself on the first-night schedule for the 50th anniversary season at The Kingdom of Speed with Precision Hydraulic & Oil the presenting sponsor.
"Bridgeport Speedway is a beautiful facility, nice, wide and smooth, and very well lit. I know from all the inquiries I have received from drivers making the trip that they are excited to take on a new area and a new facility right away," Maynard said. "A ton of them keep telling me the more they watch videos of racing in the Northeast, the more excited they get to show up and put a show on."
"My goal taking this job was to spread out the IMCA product into new and old areas," he added. "This year is quite diverse as to where and when you will see us, from western and central Pennsylvania, New York and New Jersey."
An open practice will be Friday night. Depending on the weather, pit gates open at noon Saturday, the grandstand opens at 1:30 p.m. and racing follows 2:30 p.m. hot laps. Pit passes are $40 and spectator admission is $25 for adults and $15 for students.
Eleven dates are on the schedule for the second annual NY-Penn Series with Bridgeport the first of four races in the Allstar Performance Modified Challenge.
Bonuses of $500 will be paid to the driver who can win three of four, or $250 for winning two of four races at Bridgeport; the Sean Lias Memorial at Skyline Raceway Motorsports Park on June 25; the Billy Maynard Memorial at The Hill Speedway on July 8; and at Clinton County Speedway on Aug. 13.
"Ten of the races on the schedule are already Fast Shafts All-Star qualifiers and we're working hard to get sponsors to make the 11th race another $1,000 to win event," Maynard said. "We've also seen a number of sponsors step up to give awards throughout the series."
Velocita gives $200 gift certificates to hard luck, longest tow and the driver leading at halfway at Bridgeport, plus a random draw certificate for half off a driver suit during the Billy Maynard Memorial. The series champion receives a free custom team suit while the runner-up and third place driver in points get half off certificates good toward custom team suits.
Nano Pro MT gives the $300 hard charger award at Bridgeport.
Random draw awards of $50 from Allstar Performance and $50 off a purchase of $100 or more from Wilwood Racing will be given at each event. Drivers finishing between fifth and 10th in series points will be eligible for a random draw for a drive shaft from Fast Shafts.
Bob Harris Enterprises gives a certificate good for two shock rebuilds to a top 10 finisher at each event while a pair of certificates to attend Race Tech Info Dirt Chassis School sessions will be given at random over the course of the series.
PEM gives a certificate good for a set of lightweight gears to the third place finisher each night and Midosa USA LTD gives $30 to all heat race winners. Force Flow Pressure Services gives $40 to the hard charger of each race starting April 30 at Skyline.
IMCA Speedway Motors Weekly Racing National, Dirt Works Eastern Region and KMJ Performance State points are awarded at all NY-Penn IMCA Modified Series events.