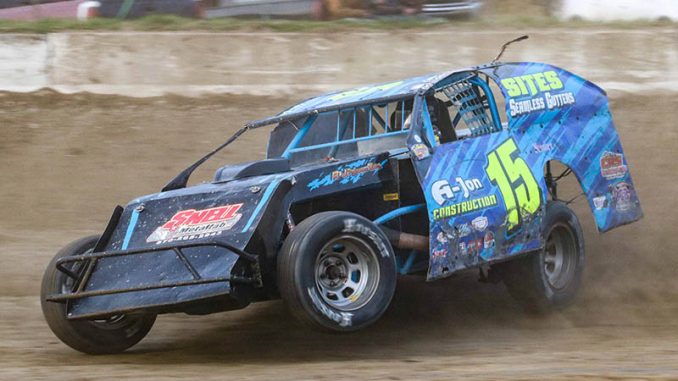 By Evan Canfield
VIRGIL, N.Y. (April 30, 2022) – After a solid season in 2021, the off-season was not kind to Eddie Sites and his brother, Close Racing Supply NY-Penn IMCA Modified Series presented by Precision Hydraulic & Oil defending champion Brad Sites.
On Feb. 13th, their race shop burned to the ground, causing them to lose much of their racing organization. Fortunately, nobody was hurt and their cars were able to be salvaged.
On Saturday night, with burnt panels on the sides of the black and blue no. 15 Friesen Performance IMCA Modified, Eddie Sites was able to overcome their winter setback and put his machine back in victory lane in the 2022 series opener at Skyline Raceway Motorsports Park.
Eddie Sites and Keith Jack Lamphere started on the front row after a full field redraw. Sites jumped out to an early lead with Lamphere close behind.
Through the early laps, single car spins on a dry, slick track brought out several cautions. Brad Sites and Rodney Morgan, both series winners in 2021, were the first two to spin early in before the race was red flagged for work on the racing surface.
Eddie Sites stayed in the lead as the race resumed while Lamphere tried every lane possible to stay with him.
Behind the front pair, heat winner Sean Bruce was steadily maneuvering his way through the field from his 10th place starting position. After avoiding several spins, he climbed to third in search of getting his first NY-Penn IMCA Modified Series victory.
As the laps counted down, Sites' lead remained steady over Lamphere. He would score a huge $1,000 victory for himself and his team, besting Lamphere and the hard-charging Bruce. Ray McClure and series newcomer Jacob McConnell rounded out the top five.
Sites became eligible to qualify for the Fast Shafts All-Star Invitational with the W.