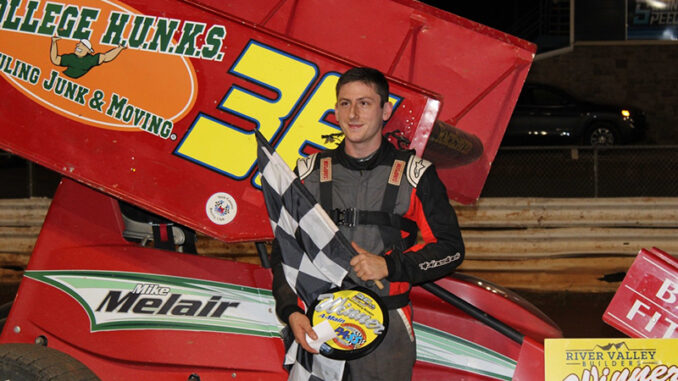 By Frank Buhrman
SELINSGROVE, Pa. (Aug. 26, 2023) – Whether fighting for the early lead, flying on a clear track, or cutting through traffic, Mike Melair had the edge Saturday night, taking home the victory in an exciting, non-stop River Valley Builders Pennsylvania Sprint Series 20-lap feature at Selinsgrove Speedway.
The Warrington driver took the no. 36 IMCA RaceSaver Sprint Car across the finish line .466 seconds ahead of Nick Sweigart to score his first win since June of 2021 at Hagerstown. He appeared to win a race later that year at Lincoln, but in his excitement forgot to go straight to the scales after the race and was disqualified.
This year he was leading at the white flag at Path Valley Speedway but came home second, and he had another runner-up finish at Port Royal Speedway. Unfortunately, he also had an unwelcome amount of bad luck and bad pill draws for starting position.
Saturday, the feature start re-draw was kind, giving Melair the pole position after a runner-up finish in his heat. From there he outdueled Tyler Snook for the early lead and drove off from the field. When traffic became an issue – 27 cars started the race and 25 went the distance – Melair was patient and efficient and kept his challengers behind.
Things tightened at the end. Sweigart, in by far his best run since rejoining IMCA RaceSaver competition, had gradually picked his way through the top five, and after taking the runner-up spot from Zach Rhodes, he began reeling in the leader.
The victory margin represented perhaps Melair's smallest lead since the opening laps.
Positions were changing constantly behind the leader, but in the end, Melair, Sweigart, and Rhodes took the podium positions, with Snook coming home fourth, ahead of Ken Duke.
The winning team dedicated its victory to two recently deceased individuals especially close to them: Rod Ort's sister, and area racing stalwart Duval Dressler.
Next week is a rare off one for PASS while the RaceSaver Nationals will be contested at Eagle Raceway in Nebraska. The next action will make up for that break, though, because the PASS racers will be joining Tony Stewart's All Star Circuit of Champions again, this time at Port Royal Speedway on Thursday, Sept. 7, for one of the preliminary nights before that track's annual Tuscarora 50.
The PASS portion of the show will be special as well, because it's part of the FANiversary Tour sponsored by the Pennsylvania Game Commission commemorating the group's 25th year of competition, and the race winner will earn an automatic starting slot in both the Race to Hunting Season event on Saturday, Sept. 16, at Selinsgrove, and the Keystone RaceSaver Challenge on Saturday, Oct. 21 at Port Royal.