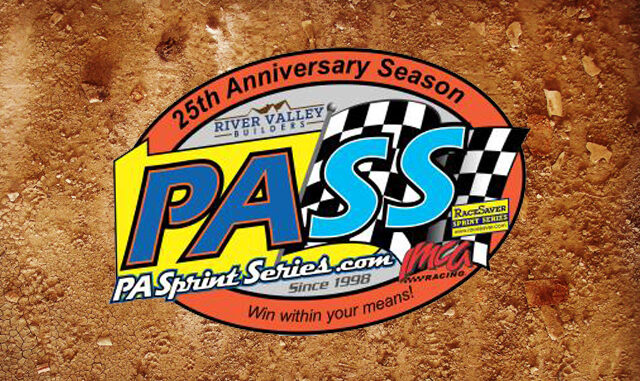 By Frank Buhrman
SPRING RUN, Pa. (May 12, 2023) – Looking to square the balance sheet at four races run versus four rainouts, the River Valley Builders Pennsylvania Sprint Series returns to Path Valley Speedway on Saturday for its second try at running on the series' oldest active track, where more than 200 feature races have run since 2000.
The 25th Anniversary PASS season has been slowed by rain, including a wet Saturday on April 15, when the series was supposed to have opened its 2023 season at the high-banked bullring that sits up against a mountain near Spring Run in northern Franklin County.
This weekend's IMCA RaceSaver Sprint Car event sees gates opening at 4 p.m., with warm-ups starting at 6 p.m. and racing to follow.
Six PASS events were run at Path last season with three-time champion Garrett Bard winning half of them. The other three were won by Kruz Kepner, Scott Frack and Doug Dodson. Dodson and Kepner are expected to be in attendance, along with more than two dozen other racers.
Of the drivers entered as of early in the week, Dodson is the career wins leader with three. Other past winners expected include Donnie Hendershot, Mike Alleman (who grabbed his win 22 years ago) and Jeff Weaver.
All those drivers should be considered contenders, along with Austin Reed, who finished runner-up twice and third once in four 2022 Path starts; Zach Rhodes, who had a runner-up finish and claimed his first RaceSaver win recently in a Virginia Sprint Series race; Paul Moyer, who came oh-so-close to his first win before falling to Bard in last season's final race here; and Logan Spahr, who has been unbeatable so far this season but had only a sixth as his best finish at Path in '22.
By one count, this will be the 202nd PASS feature at Path Valley, which ran its first race for the series in August of 2000. In all likelihood, that count misses at least a couple of races from the years when PASS records are incomplete.
Adult general admission for Saturday's action is $10 ($3 for kids 10 and under). Pit admission is $30, plus a one-time $5 membership for first-time competitors.