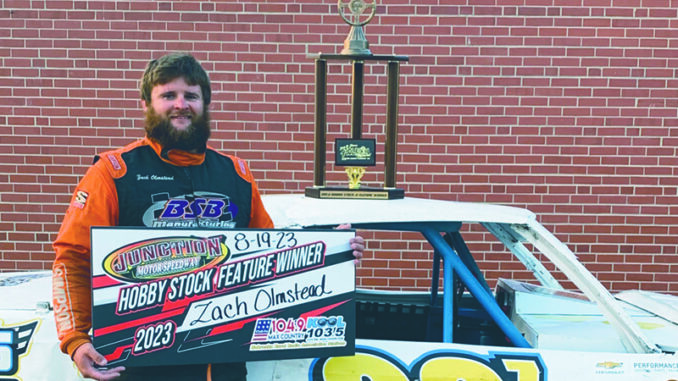 OVERTON, Neb. (Aug. 19, 2023) – Not that many years ago, Zach Olmstead was just happy to be at the track.
Now the defending IMCA Speedway Motors Super Nationals fueled by Casey's champion and a 2023 national championship contender, he won for the 100th time in his IMCA Sunoco Hobby Stock career Friday night at Junction Motor Speedway in McCool Junction.
"Everything is just going right for us. We've raced more this year and we've had some good luck," said Olmstead, who has totaled 27 wins at 10 different tracks in Kansas and Nebraska this season. "I don't think I'm faster than I was last year, I've just learned to be patient."
"Super Nationals has been my biggest win so far and you have to have some luck to do that," added the Overton, Neb., driver, also the two-time defending Stephenville Starter Race of Champions winner. "But that's more like a sprint. One hundred wins is a marathon. You have to keep your nose to the grindstone."
He's been grinding out the wins since 2016 after following brother Jacob into the class.
A third generation driver and nephew of all-time IMCA Modified wins leader and multi-time national champion David Murray Jr., Olmstead is just the 12th IMCA Hobby Stock driver to reach the 100-win mark and the first to do so since Cody Nielsen in September of 2020.
"We got a few wins back then but winning 100 times was something I never thought about," said Olmstead, now racing with youngest brother Morgan. "When we started the season, we knew we were at 73 and I thought that if we could get to 100, it would be pretty cool."
"And I knew it would be tough," added Olmstead, who followed a short family vacation in early July with seven straight wins, and 14 checkers in his last 16 outings. "There really isn't anything we've done differently. This has just been one of those years where everything has gone right for us."
Seven of his wins this season have come at RPM Speedway, six at Junction and four at Dawson County Raceway. He's also won once or twice at another seven venues.
Olmstead got his first W's before he got his driver's license, racing in a local 4-cylinder mini truck class.
High school sports and then college took precedence before he got back into the sport.
"Back then I was just happy to be at the track," he recalled. "I was a broke college kid with no money and a car that was probably 10 years old when I bought it."
"It's affordable to race an IMCA Hobby Stock," continued Olmstead, "and it's probably going to be the class I stay in."