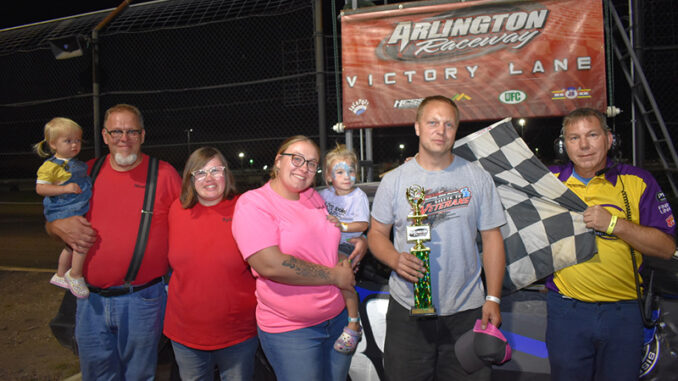 ARLINGTON, Minn. (Aug. 12, 2023) – New cars in victory lane gave the fans some exciting races Saturday for the Northfork Custom Meats Back to School Kids Night.
Almost 200 kids received some awesome prizes donated by Arlington Raceway, fans and race teams.
Brad Becker led the entire caution-free IMCA Sunoco Hobby Stock feature from his pole start to win his first main event of the year. Fighting behind him were Jordan Robinson, Taylor Manderfield and Cory Probst.
The three cars exchanged positions throughout the race but on the white flag lap, Probst got around Manderfield to take second.
Gary Schumacher led the distance as he won his first Mach-1 IMCA Sport Compact feature of the year. 
Cars were four-wide around the track and got together causing a yellow on lap seven, which sent Justin Dose to the pits. With only one lap remaining, Schumacher pulled off the win with Alan Lahr and David Marshall right behind.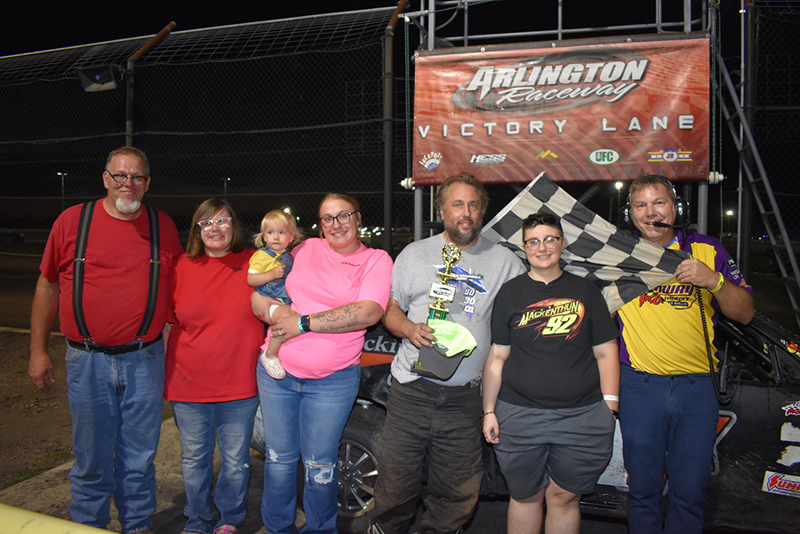 Gary Schumacher led the distance Saturday in earning his first Mach-1 IMCA Sport Compact feature win of the season at Arlington Raceway. (Photo by Sarah Moriarty)
Joey Reimers had the lead in the Friesen Performance IMCA Northern SportMod feature for 11 of the 15 scheduled laps. Jeff Lloyd and Eric Larson were behind him, exchanging spots for several laps.
Larson pulled ahead and raced Reimers side-by-side for a couple laps until he had to contend with Matt Looft as well. Looft was able to get by both of them on the final lap and won ahead of Larson, Lloyd and Reimers.
Jeremy Snow held the IMCA RaceSaver Sprint Car lead for three laps until sixth starting Matt Johnson passed five cars to take over the top spot.
Halfway through the race, Trevor Serbus was trying to gain on Johnson but lapped traffic was a factor. The top four cars were all running the high side of the track but Johnson had pulled away from the field to capture the checkered flag and win.
Dan Eckblad was the early leader in the IMCA Sunoco Stock Car feature, giving way to Josh Larsen on the ninth circuit.
Eckblad encountered troubles and pulled off the track on lap 14; Matt Speckman started 12th and picked off cars one by one all the way to second but it was Larson who pulled ahead at the end to win the race. Speckman and Chad Schroeder ran 2-3.
And there was three different leaders in the Friesen Performance IMCA Modified feature. Zach Schultz led the first lap from the pole position before J.J. Reimers took over the top spot for three laps.
That was short lived, however, as he got too high, enabling Dan Menk to slide underneath and take over the race. Clint Hatlestad worked his way to the front to challenge but in the end Menk won, Hatlestad took second and Chad Porter followed in third.