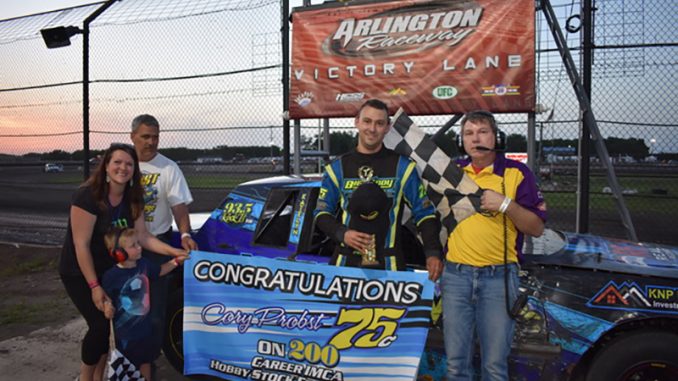 ARLINGTON, Minn. (June 18, 2022) – After thinking back to the time when he could hardly win a single race, Cory Probst talked about what it took for him to win 200 of them. 
Probst earned the 200th feature win of his IMCA Sunoco Hobby Stock Car career on Saturday at Arlington Raceway. The checkers were his eighth in 15 starts this season and already his sixth of 2022 at the big Sibley County Fairgrounds speedplant.
"It was pretty special. I was surprised when I got my 100th win, let alone my 200th," said the Brewster, Minn., driver, who celebrated with his family afterwards with dinner at Applebee's. "I can remember when I started racing and it was hard to get one win."
"I've learned that experience and a good car maintenance program are keys to getting wins," he continued. "I think racing two or three times a week and racing at different tracks makes you a better driver than racing once a week at the same track. The more you race, there's always something new you pick up on."
Probst won eight times in each of his first two IMCA seasons and has been in double figures with the W's every year since, getting his 100th win in the class on June 23 of 2018, also at Arlington.
The 2020 national champion is coming off a career-best 27 win campaign last year.
"We struggled a little bit at the start of this season with the changes in the rules to shocks and springs," he said, "but went back to what we did about 10 years ago and have been decent since."
A four-time KMJ Performance Minnesota State champion, Probst counts half a dozen titles at Arlington and at Murray County Speedway among his collection of 19 career track crowns.
"I like the bigger tracks. I like to run the 3/8's and half-miles," he said. "I don't know if it's because of the speed or if it's because there's room to get away if bad things happen on the track."
Probst is the second driver to reach the 200 career IMCA Hobby Stock feature win mark. He'd also watched Matt Looft win his 200th Friesen Performance IMCA Northern SportMod feature on May 28 at Arlington.
"I've raced at a lot of the same tracks Matt does and talk with him pretty regularly so I knew he was getting close," said Probst. "It was good to see him get it. Matt is another guy who works his tail off all the time."
Two drivers have gotten 200th career wins at the same track in the same season just once previously, when Todd Cooney and Brian Blessington reached that milestone number in the IMCA Sunoco Late Model and IMCA Sunoco Stock Car divisions, respectively, at Stuart Speedway on Aug. 3 and 10 of the 2014 season.