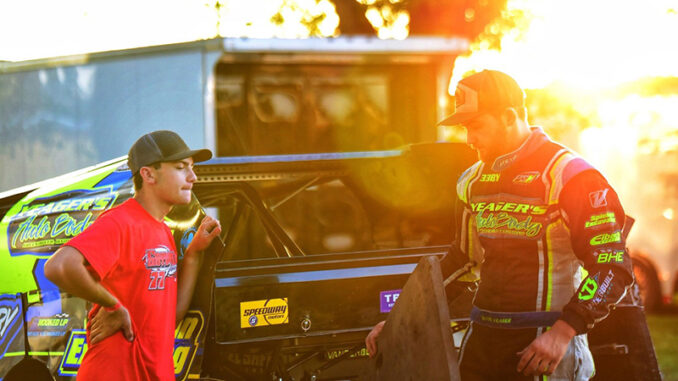 GREEN RIVER, Wy. – Making the Saturday show at the IMCA Speedway Motors Super Nationals fueled by Casey's?
That'd be great, says Braxton Yeager.
Your dad and brother making the Big Dance, too?
Even better.
The Yeager clan from Green River, Wy., will be fully-represented at the 41st annual Super Nationals, with 22-year-old Braxton joined by younger brother Bryson and father Justen at Boone Speedway.
"I've raced at Super Nationals once before (in 2019) and it was pretty awesome," said Braxton, in the midst of a Midwest racing swing with Bryson along as crew chief. "The number of cars, all the people and the track itself … it was all bigger than anything I'd ever been part of."
Now in his eighth Modified season, Yeager has won track titles at home track Sweetwater Speedway two of the last three years. He began the 2023 season in Arizona and U-turned in the spring for King of the Highbanks shows at Marshalltown Speedway.
He won all four of his June starts, sweeping weekend doubleheaders at Millard County Raceway and Sweetwater. Yeager's first-ever visit to Montana's Electric City Speedway was rewarded with the $2,000 Fastest in the Falls checkers and what became his fifth Fast Shafts All-Star Invitational qualifying victory came late last month in his first outing at Park Jefferson Speedway in South Dakota.
"We wanted to race as much as we could this year, at as many different tracks as we could, and work out the bugs on this new car. It's a 2023 VanderBuilt and it's been awesome," said Yeager. "When you race in Arizona and then out East, you get to race with a lot of the best drivers."
"We raced a week out here a couple years ago and we learned a lot," he added. "I think racing against different drivers at different tracks has really helped us become more consistent."
Case in point, Yeager's 19th place finish in a top-flight field at the 32nd annual Harris Clash, opening night of IMCA.TV Speedweek.
"It's tough out here so making the main event at the Harris Clash was pretty cool. It really makes you better when you go back home," he said. "Plus, Bryson was there when I qualified and I think he was about as excited about it as I was."
"It's been nice to come out here and be able to watch and learn," agreed Bryson, who will be wheeling a 2020 VanderBuilt ride at Boone. "I know everything about Super Nationals is a big deal and I'm looking forward to experiencing it myself."
Making it into the main event is an experience that all three Yeagers hope to share. They'd join Justen's brother and Braxton and Bryson's uncle Russ, the only Wyoming driver to qualify at Boone in the accomplishment.
"Russ made it in twice (1999 and 2000). In all the years he's raced, qualifying for Super Nationals is one of the few things dad hasn't done," said Braxton. "With so many cars and such good competition, making the show is definitely the goal and it would be even more special if we could all make it in together."