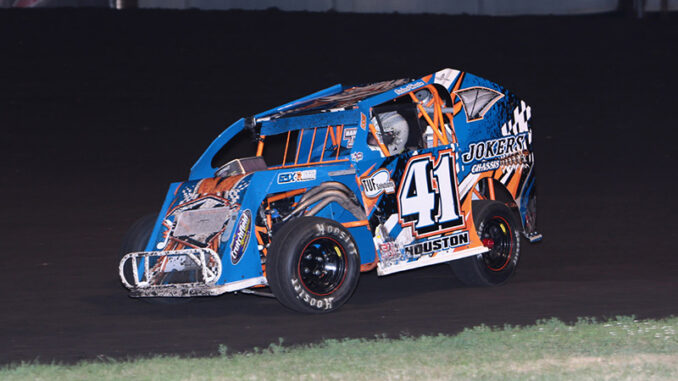 By Joyce Eisele
BOONE, Iowa (Aug. 5, 2023) – It was another big night of racing at the Boone Speedway on Saturday, that saw 175 race cars checked into the pits. Sauerman Trucking boosted the payout for the Stealth Racing IMCA STARS Mod Lites to a $500 payday, as well as kicking in $50 to each heat winner in all divisions.
The Mod Lites ran their 15-lap feature event first.
Early leader was David Bailey with Scott Bailey giving chase and that was the running order when the race was red flagged on lap eight after John Patterson rolled his brand-new ride in turn four but was thankfully okay.
When the race went back to green, a lap was not completed when the race was once again red flagged after disaster struck on the backstretch. This time it was Joe Wood taking the tumble, with Scott Bailey and David Meinecke also involved. Once again, thankfully no one was hurt.
Bailey held his lead when the race did get back underway, but it was short-lived as he lost the handle and spun, bringing out a yellow. When the race restarted, it was Masengarb inheriting the lead. It was all Masengarb's race from there on out as he motored home to the checkers untouched.
Finishing in second was 16th place starter Mike Kennedy and Josh May got back to third place after an early incident put him to tag the tail. Fourth was Tanner Gannon who came from 14th starting and Jason Toppenberg was fifth.
The Friesen Performance IMCA Northern SportMod 18 lap-feature was up next, and it was Cam Reimers scoring the win, his third of the season.
Reimers took over the lead on lap three, getting around young Gage Hilgenberg, and never looked back. Several yellows slowed the action but it was no hinderance to Reimers as he took the twin checkers.
Last week's winner Matt Avila hard charged his way to second place after starting 20th. Curtis Veber finished third and Dusty Masolini and Ryan Leeman completed the top five.
The IMCA Sunoco Stock Car 20-lap feature provided plenty of exciting action as always.
It was three- and four-wide racing in the opening laps with Micheal Smith leading the fray going on behind him. Todd VanEaton soon got to his bumper but Smith held him off.
Then both drivers were overcome by seventh starting Jake Sachau, who took over the top spot-on lap 10. He never relinquished it as he went home to the flying checkers and his first Stock Car win at Boone Speedway. Scott Davis started 12th and finished second, and it was brothers-in-law Jay Schmidt and Micheal Smith going third and fourth in that order. Miciah Hidlebaugh rounded out the top five.
The Mach-1 IMCA Sport Compacts made their only appearance of the year before reappearing on Tuesday of this year's IMCA Speedway Motors Super Nationals fueled by Casey's. They ran a 15-lap main event.
DeVries was the early race leader but by lap five Devin Jones, who started eighth, had taken over. Jones, a former Super Nationals champion in his hatchback ride, kept that top spot the rest of the way to the win.
Jake Paysen made a late-race rally to take the number two spot in a close one at the line over third place Mitchell Bunch. Matt Miller was fourth and DeVries took fifth.
The 20 lap Friesen Performance IMCA Modified feature went green to checkered.
Winner Jake McBirnie led much of the race running downstairs, while Grey Ferrando tried his best to make it work on the top side but had to settle for second place. Jeremy Mills ran up front all race long but had to be content with third place. Farmington, N.M.'s Zane DeVilbiss took fourth and Tim Ward came from 12th starting to capture fifth
This was the third visit for McBirnie to Victory Lane at the speedway this season.
The night ended with the running of the IMCA Sunoco Hobby Stock 15-lap feature.
Mike Smith started 15th in the field and it should be to no one's surprise that he didn't stay there. He methodically worked his way through the field of cars, had the lead with four laps to go and kept it to the checkers.
Wayne Gifford took second place after starting ninth. Third went to Curt Reed, Tom Killen Jr. started 12th and finished fourth, and John Watson came all the way from 17th to take fifth.
This Saturday, Aug. 12, is the P1P Watermelon Classic annual event. IMCA Modifieds, Stock Cars, Northern SportMods, Hobby Stocks and STARS Mod Lites are all on the docket. Pits open at 4:30 p.m., the gates at 5:30 p.m., hot laps are at 6 p.m. and racing is at 7 p.m.