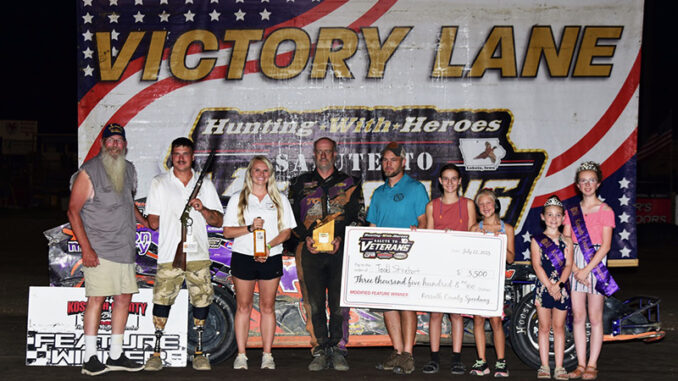 By Greg Grabianowski
ALGONA, Iowa (July 27, 2023) – It was the eighth annual Hunting With Heroes Salute to Veterans night at Kossuth County Speedway on Thursday as the event just continues to break more records every year.
An event-high 137 cars signed in the pit shack to compete for an increased purse but more importantly a hand-carved trophy and an opportunity to give a veteran a prize worth at least $300 with a top three finish.
The Friesen Performance IMCA Modified feature saw a veteran driver win what he said in the winner's circle was the biggest victory in his racing career.
Todd Stinehart took the top spot early and built a lead but the yellow flag came out lap number three and again three laps later.
But after that, the feature went non-stop as emotional Stinehart was elated in victory lane with the biggest win of his 28-year career and a nice $3,500 first place check helped a little bit, too. The big win also made Stinehart eligible to qualify for the Fast Shafts All-Star Invitational.
Jerry Flippo was the runner-up for the second straight evening with Joel Rust taking third and Cody Thompson ended up in fourth place. Cody Knecht crossed the finish line in fifth.
The IMCA Sunoco Stock Car feature ended with a feel-good story about the winner. Jim Horejsi grabbed the early lead, led all 25 laps and earned the $3,500 first place check.
Only three caution flags in the final eight laps delayed another trip into victory lane for the veteran Marshall, Minn., driver, already B & B Racing Chassis All-Star Invitational eligible.
Horejsi raced twice at Algona 20 years ago, letting a win get away the first night and coming back the next week to win the feature.
He did not return to Kossuth County Speedway again until June 15 when he won the evening's special event, so he has now raced four times in his career at the track and won three times.
Elijah Zevenbergen finished second as McCain Jennings was third. Buck Schafroth placed fourth with Chance Hollatz taking fifth.
Mike Smith has been the hottest driver around in the IMCA Sunoco Hobby Stocks and nothing changed Thursday evening as the Lake City driver won his third straight feature of the week and his fifth at the track this summer.
Smith jumped out front right away and built a nice before the yellow flag came out laps number eight and nine. The caution flag reappeared on lap 13 but Smith was not going to be denied winning his second straight Salute to Veterans feature along with winning at Britt on Tuesday.
Riley Christensen was the runner-up in the feature with Chris Krug taking third, Cody Hubbell was fourth and Saturday winner Dylan Nelson placed fifth.
Alec and Colby Fett led the Friesen Performance IMCA Northern SportMod field to flag-tand for their main event as Wednesday evening's winner Colby Fett jumped out front right away.
Yellow flags on laps number two and three bunched the field back up and then the race went 14 laps before the caution flag reappeared on lap 18.
But Colby Fett regained control the final seven circuits to earn his first victory of the season at Algona. Logan Anderson crossed the finish second as eight-time feature winner at the track this season Matt Looft took third.
Alec Fett ended up in fourth place with George Nordman placing fifth.
None of his Mach-1 IMCA Sport Compact foes had anything for Oliver Monson as captured his seventh feature win of the year at Algona.