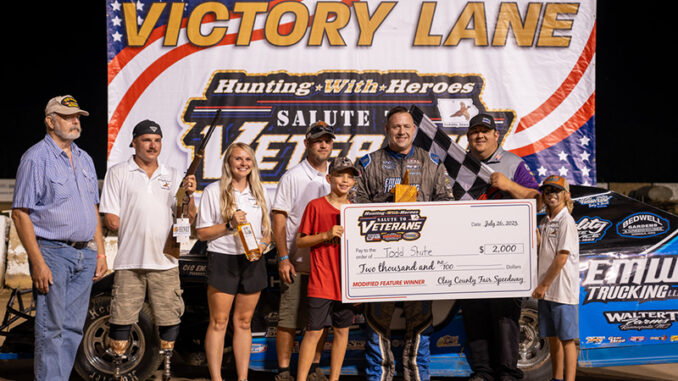 NORWALK, Iowa (July 26, 2023) – Todd Shute came up big-time again, at another big-time IMCA event.
Shute won for the 100th time in his Friesen Performance IMCA Modified career Wednesday at Clay County Fair Speedway, in the Hunting With Heroes Salute To Veterans main event at Spencer.
"It didn't sink in for a bit," said Shute, so focused on the drive from 11th starting to the lead and then the $2,000 checkers that he need a post-race reminder from brother Troy he'd just earned win number 100.
"There was a time when we were in the 80's for wins and thought it would be nice to get to 100. It seemed unattainable for a while, but we got there and now it's something we can hang our hat on."
Shute grew up going to the races at Des Moines and Knoxville, made up his mind he was going to race himself and turned his first laps in a used dwarf car he bought from Jim Cooper.
Now from Norwalk and a 20-year veteran of the IMCA Modified division, Shute combined a single-season best 17 feature wins with the North Central Region championship and three local track titles in 2008.
He's one of just six drivers to complete the IMCA Speedway Motors Super Nationals fueled by Casey's Triple Crown, winning the main event in 2007, the Fast Shafts All-Star Invitational in 2013 and the Race of Champions in 2021.
"Every accomplishment is sweet in its unique way," said Shute. "Every one is different. There are so many different factors that go into them."
"I don't think anyone expected us to win Super Nationals when we did. In the All-Star race we won after starting 14th and I still have people come up to me and tell me it was the best race they ever saw," he continued. "When we won the race of champions two years ago, we drew the pole and told myself it was now or never. I knew we had to make the most of it, and we did."
The Clay County win was Shute's 11th of the season and third in his last four starts, following checkered flag runs at Benton County Speedway's Urbana 5 Memorial and Stuart Speedway's Walrod Memorial.
"We had only raced at Spencer once before and that was another Salute To Veterans race where we started up front and went backwards," said Shute. "We'd had kind of a dry spell before winning at Vinton and Stuart (and finishing second at Marshalltown in between) and I didn't know what to expect after drawing 11 at Spencer, but we did it, and that was a very special race to win."
Shute is the 68th driver in division history with 100 career wins and the second to reach triple digits so far this season, joining Chaz Baca in the feat.