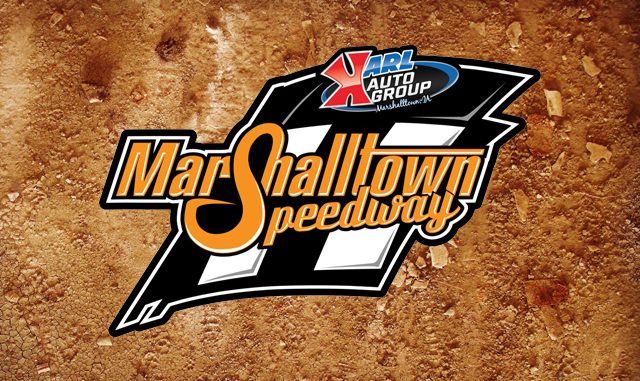 By Joyce Eisele
MARSHALLTOWN, Iowa (July 21, 2023) – It was Vessco Inc. Night at the Races Friday and Jake McBirnie raced to the $2,000 Highbanks After the Creek IMCA Sunoco Stock Car win on at Marshalltown Speedway.
Jake McBirnie led the field to green for the contest and that was all she wrote, as he paced all 30 laps on his way to victory lane and B & B Racing Chassis All-Star qualifying eligibility. McBirnie was chased most of the distance by Chelsea Charger Damon Murty, but on this night Murty had to be satisfied with the runner-up spot.
Kaden Reynolds ripped the lip of the track in the latter portion of the race in an attempt to gain ground but had to be content with third. Fourth went to Jim Horejsi of Marshall, Minn., who advanced 17 spots to take the hard charger award and Garrett Corn completed the top five.
The IMCA Friesen Performance IMCA Modified feature went to Joel Rust while Jenae Gustin returned to the winner's circle in the Friesen Performance IMCA Northern SportMods. It was Sam West taking the win in an accident-marred IMCA Sunoco Hobby Stock feature and Jon Padilla made his weekly haul from Silvis, Ill., pay off by winning in the Stealth Racing IMCA STARS Mod Lites
David Bailey jumped to the immediate lead in the Mod Lite 15-lapper and was looking strong until bad luck bit him when he spun just after lap four was in the books. New leader Jason Masengarb had Padilla hot on his tail and by lap seven, it was Padilla taking command.
Padilla then stretched out his lead and took it home to an easy win. Josh May started 10th and took second. Masengarb took third, fourth was Alex Eischeid and Randy Bryan was fifth.
The 20-lap Hobby Stock feature had some issues but when they finally found their rhythm, it was Sam West leading the field.
West continued his hold on the top spot through three more yellow flags, but as the laps wore down, he had big time company jousting for position in a close battle right behind him. At lap 17, the hard-fought contest going on behind the leader saw a scary incident, bringing out a red flag. Calvin Dhondt went for a hard roll, ending upside down on the front stretch, as other cars got caught up in the unavoidable chaos, eliminating about eight cars. Thankfully, no one was hurt.
When racing got back underway, West still maintained his lead and went home to the flying checkers and the win. Corey Van Der Wilt started 14th and finished as the runner-up. Third went to 24th place starter Darin DeZwarte, Rick Kriegel started 19th and was fourth and Derrick McNeece was fifth.
The Northern SportMod 20-lap feature came next and it was Gustin on a rail, leading the distance.
Gustin started third and pulled an expertly maneuvered slide out of turn four to take the lead as lap one was scored. She never looked back from there and took the checkers comfortably over second place Brady Hilmer. Matt Avila finished third, fourth was 12th starter Brayton Carter and Travis Petersen was fifth.
The finale of the night was 20 laps of IMCA Modified racing. Richie Gustin led the opening laps of the race, but Rust was quickly up to challenge.
By lap five, Rust had the lead and he would keep the upper hand the rest of the way to the finish and the win. Eleventh place starter Todd Shute got by McBirnie late in the race as they went second and third, respectively. Tripp Gaylord finished in fourth place and Izac Mallicoat took fifth.
Friday, July 28, is the Dale DeFrance Memorial honoring the late hometown racer. It is a Hoker Super Late Model Race Series race with big money on the line. The Late Model race as of this writing pays $4,644 to win and $750 to start. Modifieds, $3,044 to win and $220 to start. Stock Cars are $1,444 and $185 to start. Northern SportMods are racing for $1,044 and $180 to start, and the Hobby Stocks payoff is $744 and $125 to start.
Grandstands open at 5:30 p.m., hot laps are at 6:55 p.m. and the green flag drops at 7:30 p.m.