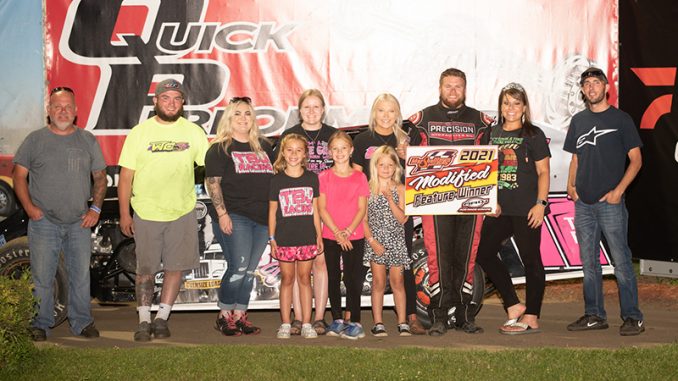 By Joyce Eisele
MARSHALLTOWN, Iowa (July 16) – Marshalltown Speedway held its regular weekly racing program on Friday night, along with the Central Iowa Fair. Two drivers kept their winning streaks going as Kaden Reynolds rolled to another win in the IMCA Sunoco Hobby Stock division, as did Dillon Raffurty in the IMCA STARS Mod Lites.
Dallon Murty took home the $1,000 IMCA Sunoco Stock Car special, Jenae Gustin found her way to victory lane in the Karl Kustoms Northern SportMods, Tom Berry claimed the win in the IMCA Modifieds and the Mach-1 Sport Compacts joined the regular classes with Adam Gates taking that victory.
Last year's track champion and defending IMCA national champion Berry made his presence known once again at the High Banks, as he piloted his new ride to victory. Berry started sixth and overtook early leader Drew Janssen on lap nine, and then never looked back, winning easily over Janssen. Zach Rawlins ran up front the entire race and took home a third place finish.
It was $1,000 to win presented by Toby K's Hideaway in the Stock Cars. There was a lot of close racing in the 25-lap feature with Austin Kaplan leading the charge in the early portion of the race. He was quickly challenged by Michael Jaennette however, with Jaennette taking over that top spot on lap six.
Meanwhile, sixth place starter Murty was throwing his hat into the ring as he moved into third place. It was quite a show between Jaennette, Kaplan and Murty as they duked it out lap after lap. Murty finally established his claim to second place at lap 14 and began his assault on Jaennette. Murty ran the high line and then the low line as he sought what would work, and finally with just three laps remaining, got it to work, taking the lead.
A yellow flew late in the race set up a green, white, checkered finish with Jaennette hoping to get the upper hand on the restart. It wasn't to be, however, as Murty took the win, Jaennette having to settle for second. Visiting Texas racer Shelby Williams out of Bonham was hard charger, coming from 18th starting to third.
IMCA STARS Mod Lites were up for a 15-lap feature. Dillon Raffurty of Kansas City, Mo., started ninth and by lap three had the lead. From there on he never looked back, taking his fourth feature win in a row. David Raffurty made the haul up from Kansas City too, and finished in second place. Josh May took third.
The IMCA Sunoco Hobby Stocks also went 15 laps for their feature event. Tenth place starter Reynolds caught early race leader William Klosterman and flew into the lead by lap two. It was all Reynolds' race from there on out as he pulled away from the rest of the field to take the easy win. Following a distant second was Aaron Martin who had started 11th while Solomon Bennett came all the way from 18th starting to finish third.
Gustin pretty much dominated in the Northern SportMods. Gustin started fourth and had the lead by lap two. Several yellows were no hinderance for Gustin as she motored home, taking the comfortable win. There was a dogfight behind Gustin in the closing laps with Johnathon Logue taking the runner-up spot over Kyle Olson in third place.
The Sport Compacts made one of several of their scheduled appearances at the High Banks and it was Gates taking home the win in the 12-lap feature event. John Gill started 10th and chased Gates for most of the race but had to be content with the runner-up position. Third went to Dalton Sowers.