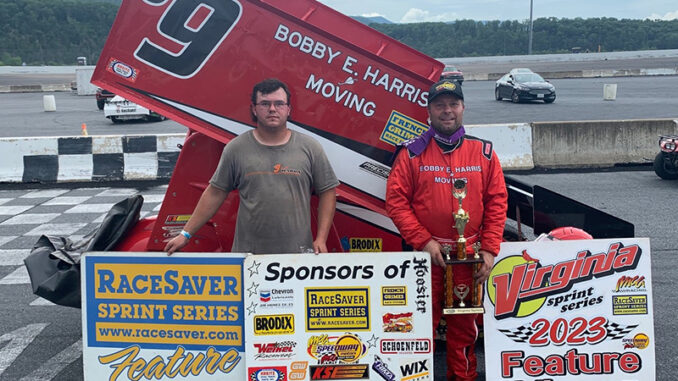 SHENANDOAH, Va. (July 15, 2023) – The Virginia Sprint Series got its first repeat winner of the season Saturday night as Jerald Harris streaked to a second straight IMCA RaceSaver Sprint Car victory as black clouds rolled toward Shenandoah Speedway.
Also the feature winner two weeks ago at Langley Speedway, Harris prepped for the main event by topping his heat race then, with inclement weather on the way, helped Daren Bolac leading the main event field to green.
Harris stayed a little high and swept around Bolac to take the top spot as Aaron Leach made his way to third. Laps flew by on the pavement as Harris stayed smooth with tire management a priority.
Bolac headed to the pits as Matt Mullins made his way to third with Robert Tyler making it to fourth. The caution-free event helped Harris maintain his smooth pace. He had the field closing but the challengers ran out of time.
Harris topped the field and beat the rain to the checkered flag. Leach and Mullins were next across the stripe.
The Virginia Sprint Series heads back to the beach for Fast Friday Race no. 3 at Dixieland Speedway in Elizabeth City, N.C., this Friday, July 21.