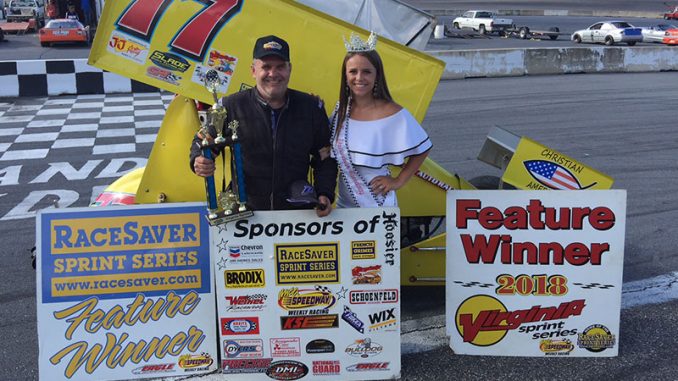 SHENANDOAH, Va. (June 23) – Mike Leraas made the most of his trip north to lead the last half of the race for his second Virginia Sprint Series feature win of the season Saturday at Shenan­doah Speedway.
Bill Rice and Chris Ware paced the IMCA RaceSaver Sprint Car field to green. Rice jumped out front with Ware in tow while Leraas and Tony Harris worked on Ware for second.
Rice tried to get away as Leraas gained second and Harris took over third.
Leraas went low and to the front, leaving Rice to race with Harris, which took five laps until he went to second. Leraas was out front as Harris was trying to chase him down. Glenn Worrell went to third as Rice faded with steering trouble.
Harris was trying to close in but it was not to be as Leraas hit the finish line first. Worrell was third.
Next it's the second annual visit to Langley Speedway in Hampton, Va., on Saturday June 30.
Feature results – 1. Mike Leraas; 2. Tony Harris; 3. Glenn Worrell; 4. Bill Rice; 5. Ben McCall; 6. Chris Ware; 7. Josh Perreault; 8. Ron Moyers.