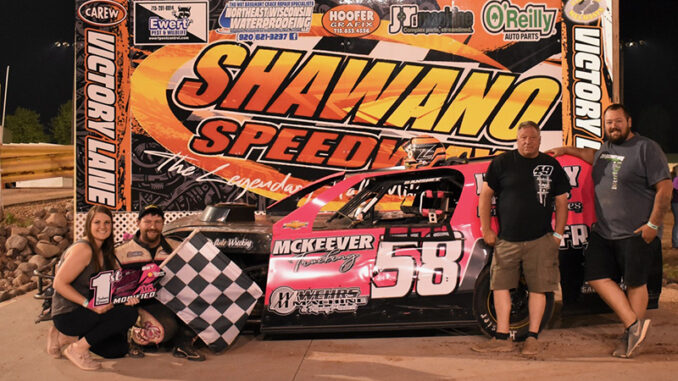 By Brandon Reichenberger 
SHAWANO, Wis. (June 3, 2023) – Shawano Speedway has seen numerous legendary drivers make laps around the track throughout its rich history. In 2007, the Shawano Speedway Hall of Fame was founded and since then two deserving legends have been inducted each year.
Saturday night during intermission and in front of an enthusiastic crowd, friends and family, Eddie Muenster and Gordie Seegert Jr. were enshrined into the Hall of Fame as the class of 2023.
Eighty-nine cars signed in to do battle and Jared Siefert, Tyler Sobiesczyk and Marcus Yarie would be IMCA feature winners.
Jerry Muenster, a 2010 Hall of Fame inductee, and Paul Thorpe led the Friesen Performance IMCA Modified field to the green flag for a 20-lap, action-packed feature.
Much like the heat race earlier on in the night it was Jerry Muenster and Jerry Wilinski holding down the top 2two spots at the start. Marcus Yarie overtook Nick Holtger for third by lap three and quickly set his sights on the top two. Wilinski used the high line in turns one and two to overtake Muenster for the lead as Yarie quickly closed in.
Wilinski had Yarie glued to his tail following a lap five restart. Yarie jumped the cushion and allowed Kevin Feck to sneak by, then recovered and regained the spot.
On lap nine, Yarie dove to the inside of Wilinski for the lead. As the top two swapped positions, Lucas Lamberies tried to find a way around Feck while Johnny Whitman looked to join them in a three-car battle for third.
Lamberies passed Feck and Wilinski before closing on Yarie for the lead. A good ol' Saturday Night Shootout was in store following a caution with five to go.
On the restart, Yarie slammed the door on Lamberies who had company in the form of Whitman and Wilinski. As the laps wound down it was Yarie scoring the win followed by Lamberies, Johnny Whitman, Konnor Wilinski and Jerry Wilinski.
Up front in the IMCA Sunoco Stock Car main it was all Jared Siefert as his lead increased every lap while Brett Wenzel and Dan Michonski duked it out for second.
When the checkered flag flew on lap 20 it was Siefert scoring the win and a clean sweep on the night. Following him across the line were Wenzel, Michonski, Kyle Frederick and Travis Van Straten.
A great battle for second between Logan Fleischman and Jeffrey Teske for the last 10 laps provided lots of excitement but this was all well behind Friesen Performance IMCA Northern SportMod main event leader Tyler Sobiesczyk.
A yellow flag gave Teske and Fleischman a chance at the leader but on the restart Sobiesczyk quickly launched to three-car length advantage and that was all it would take as he went on to score back-to-back feature wins.
The top five at the line behind him included Fleischman, Teske, Bryce Clements and Andy Klosterman.