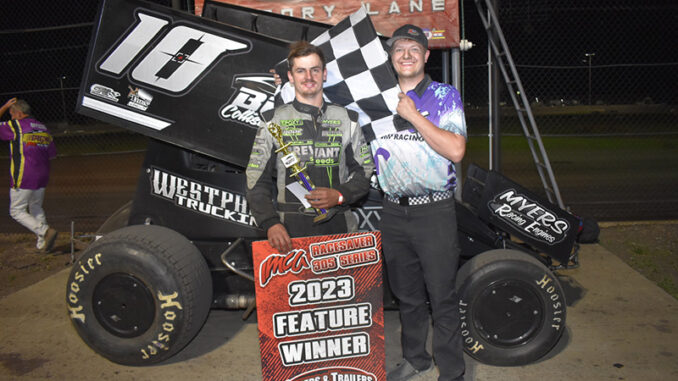 ARLINGTON, Minn. (May 27, 2023) – The Toppers and Trailers Plus Minnesota IMCA RaceSaver Sprint Car Series kicked off and once again Trevor Serbus wheeled his car around the car to win Saturday at Arlington Raceway.
Mike Stien tried to stick with the leader but wasn't able to gain on him. Brandon Allen was running a strong third but Matt Johnson was able to get under him and take his spot, then Brett Allen and Brandon Allen were exchanging positions for the following laps with Brett coming out in fourth and Brandon in fifth.
Brett Allen also won the RockStar Hard Charger of the Night award and an extra $100 from Schultz Custom Woodcrafters.
Once again Cory Probst worked his magic and captured a clean sweep in the IMCA Sunoco Hobby Stocks. Jonathan Schroeder had a good lead but spun out in when he went too high in turn two and that gave Probst the moment he was waiting for as he had driven up from his 10th place start to challenge.
By lap six another caution was thrown when the spun around causing cars to get collected. When they restacked it was Jordan Robinson who had moved forward but by the end of the race lapped traffic got in the way of advancing any further and Probst went onto win.
Marschal Robinson won the caution-free race Mach-1 IMCA Sport Compact race, leading from start to finish. Alan Lahr took second and Justine Dose took third.
A few cautions came out in the Friesen Performance IMCA Northern SportMod feature. Eric Larson had the lead for the first nine laps but caution flags mean relining up, which gives an advantage to the cars behind him.
Jeff Carter and Matt Looft were able to capitalize on that after a yellow on lap 10. Carter took the lead but Looft followed him and the two jockeyed back and forth until the white flag lap and then Karnick spun again and caused a yellow.
After that Carter couldn't catch Looft for the last two laps and Looft won the race, Carter took second and Tony Stephensmeier took third from his 10th place start.
The IMCA Sunoco Stock Car feature saw 20 cars start the race. There were a couple of caution flags that came out at the beginning but when the race restarted the Ford-powered no. 87 of Brent Uecker was the car out front.
Josh Larsen was sticking with him and the pack was four-wide for several laps. By lap five Ryan Bjerkeset was in the mix also along with Dan Mackenthun. They were all tight and coming into turn four when Matt Looft had contact with Larsen, which spun him around. Looft was sent to the tail.
On the restart, Tim Pessek got hold of some rubber and passed Larsen while Mackenthun got by Bjerkeset on the backstretch. With all the commotion behind him Uecker held on for the win, Mackenthun took second and Pessek edged past Bjerkeset for third.
Jason Schroeder led the first lap of the Friesen Performance IMCA Modified feature. By the second lap, Trent Loverude had moved up five spots and passed Schroeder to take the lead and win his first feature of the year. Clint Hatlestad took second with Chad Porter third.