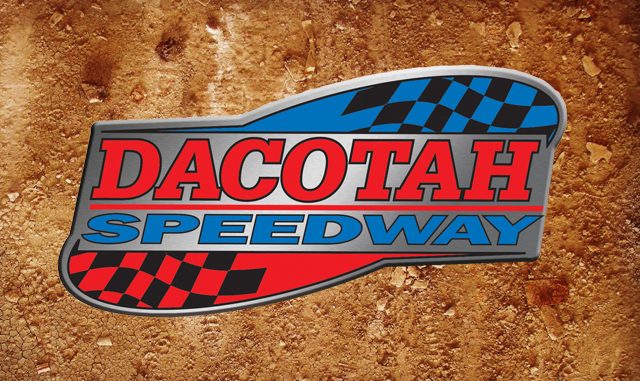 By Rebecca Rattei
MANDAN, N.D. (May 19, 2023) – Veteran Marlyn Seidler was the winner Friday night in the Friesen Performance IMCA Modified feature at Dacotah Speedway.
Scott Gartner led from the pole in the main event and pulled away as the racing was heating up behind him between Travis Tooley, Quentin Kinzley, Mark Dahl and Jason Wolla. Drivers were slicing and dicing for position as the track was wide and racy.
A mid-race caution erased Gartner's large lead over the field. On the restart, Gartner, Kinzley and Dahl raced three-wide for the lead as Tooley, Wolla and Seidler raced three wide for fourth.
Seidler, who started ninth, shuffled into the fourth position and wasted no time tracking down the leaders. Kinzley led briefly before Dahl claimed the top spot. Seidler made it a three-car battle for the lead and motored into first place.
Jeremy Keller, who started 11th, followed Seidler through the field and started to reel him in when Seidler started catching lapped traffic. Keller was all over Seidler's rear bumper and coming to the checkered flag, Keller threw a Hail Mary for the win but slid up the track, allowing Seidler to cruise by and grab the victory.
Dahl finished third ahead of Kinzley and Wolla.
When the green flag waved in the Mach-1 IMCA Sport Compact feature, they were four wide for the lead coming out of turn four before last week's feature winner Krys Yost charged to the lead.
Paul Schuh hung tight with Yost as they battled side by side for first place. With only two laps to go, Yost cleared Schuh for the position. As the checkered flag waved, Yost crossed the finish line first. Paul Schuh had to settle for second as Couy Snyder held off Alex Thompson to finish third.