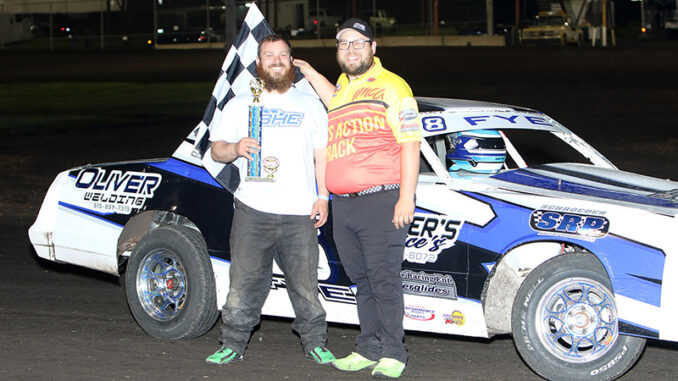 By Joyce Eisele
BOONE, Iowa (May 13, 2023) – Boone Speedway avoided the bad weather rumbling around the State of Iowa on Saturday and the show went on as scheduled with Chris Burke and Aron Fye getting career first wins in their respective IMCA divisions.
Summer Anderson and Burke led the field of 24 IMCA Friesen Performance Northern SportMods to the green with Anderson jumping to the point. Her night was short-lived, however, as she broke on the backstretch on lap two.
This put Burke to the lead as Hunter Longnecker tucked in behind and put on a relentless challenge. Much of the rest of the race was a near side-by-side challenge as Burke kept his momentum up top and Longnecker looked for a way under him.
Burke never gave up his advantage and held off all challenges to see the checkers for the first time in his career. Longnecker had to be content with second place in the caution-free feature and third went to Thomas Behle.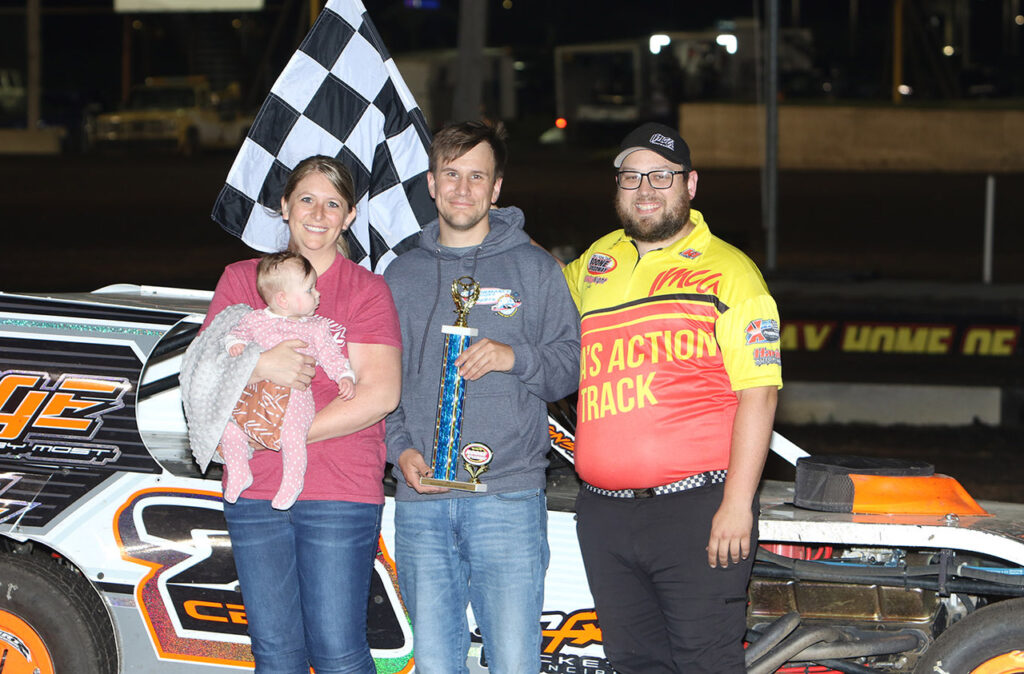 Chris Burke led all but the opening circuit in winning his career-first Friesen Performance IMCA Northern SportMod feature, at Boone Speedway on May 13. (Photo by Bruce Badgley, Motorsports Photography)
The IMCA Sunoco Hobby Stocks also made it one for the record books as Fye got that first-ever win under his own belt.
Fye led the 24-car field to green and never looked back as he went on to the victory. Andrew Burg took second ahead of Brian Ashburn. Ironically, Fye matched his brother Danny's first-ever win from last week in the Northern SportMod division.
Ronn Lauritzen started on the pole and led the distance in the Friesen Performance IMCA Modified feature. There was a lot of good racing going on behind him, with Jimmy Gustin getting the runner-up spot after battling past Doug Smith.
Jay Schmidt kept it up top the entire 20 laps, sometimes a quite hairy spot being so close to jumping the berm and found victory lane in the IMCA Sunoco Stock Car feature.
Several drivers threw challenges at him but to no avail as Schmidt sailed home to capture the win. Austin Bouzek took second, just getting by Scott Davis on the closing lap, who was third.
And Josh May captured his first feature win at the track this season as he led all but the first two laps of the Stealth Racing IMCA STARS Mod Lite contest.  Randy Bryan kept on his tail for much of the race, but had to settle for the runner-up position. Riley Clem, the Bakersfield, California driver who is spending his summer in Iowa, came from 10 starting to finish third.