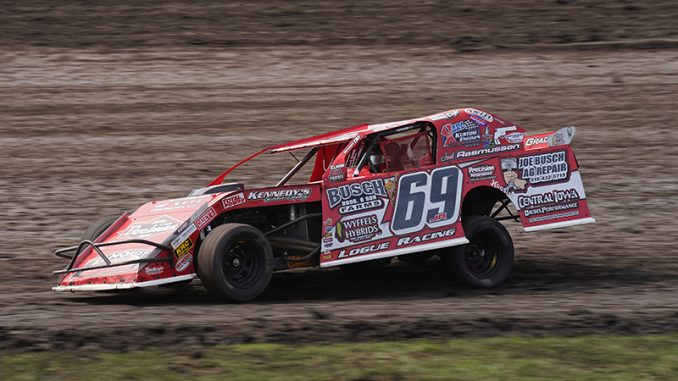 BOONE, Iowa (Sept. 13) – When Johnathon Logue woke up Sunday morning, his first thought was that it was going to be a good day.
He just had no idea how good.
Logue won the BSB Manufacturing Race of Champions for the first time, then won his career third IMCA Speedway Motors Super Nationals fueled by Casey's Northern SportMod championship.
"When I woke up, I was thinking it was going to be a good day. There was no rain in the forecast so maybe we would be able to get some racing in," he said.
Logue led 35 of the 42 laps he'd run Sunday at Boone Speedway, the last eight in the RoC and the last 27 of the 30-lap main event.
He was inches ahead of Brett Berry when the fourth lap was scored in the main. He pulled away from the field following each of five restarts, getting a lapped car ahead of Cody Thompson before win­ning by half a straightaway.
"The track transitioned very quickly. Brett beat me on the start and kind of caught me with my pants down," he admitted. "Once I took the lead I started to focus on not making a mistake on my entry and hitting my marks."
Tony Olson, Logan Anderson and Brett Berry chased Logue and pole starter Thompson across the stripe in completing the top five.
The $3,000 win was Logue's 16th of the season, a career best, and his 27th since August of 2019 aboard a Rage.
"This year I felt as confident as I ever have going into Super Nationals, with this car and the best crew that goes to the track with me week in and week out," he said. "There were a lot of good cars at Super Nationals and our focus on Sunday was to keep our nose clean. One little thing can ruin your night. Our maintenance program is second to none but you have to finish the race to win the race."
His first Super Nationals crown came in 2014, his second last year.
"I think the first one was the third race I'd ever won. That was pretty tough to do. I was ecstatic when I won last year to become the first repeat (SportMod) winner," said Logue. "This champion­ship was emotional, especially after winning the race of champions."
Anderson's fourth-place finish was the best among 15 first-time qualifiers, fully half the starting field. David Smith made his division-best ninth career start, Olson his eighth and Logue his seventh.
Colton Nelson made the biggest move to the front, 18 places. Austin Schrage was plus 15 on the day, Garrett Nelson and Brent Curran both plus 14.
Feature results – 1. Johnathon Logue, Logansport; 2. Cody Thompson, Sioux City; 3. Tony Ol­son, Cedar Rapids; 4. Logan Anderson, Eddyville; 5. Brett Berry, Colby, Kan.; 6. Brayton Carter, Oskaloosa; 7. Alec Fett, Thompson; 8. Garrett Nelson, Osceola; 9. Brent Curran, Antioch, Calif.; 10. Austin Schrage, Cresco; 11. Tim Stallbaumer, Tecumseh, Kan.; 12. Colton Nelson, Osceola; 13. Ty Rogers, Somerton, Ariz.; 14. Colby Fett, Algona; 15. Josh Sink, Red Oak; 16. Travis Burger, Manhattan, Kan.; 17. Brian Baker, Bakersfield, Calif.; 18. Jason Roth, Hazel Green, Wis.; 19. Trevor Baker, Roca, Neb.; 20. Tyler Watts, Beloit, Kan.; 21. Ben Stockton, Kansas City, Mo.; 22. Steve Clancy, Odessa, Mo.; 23. Ben Chapman, Clarence; 24. Doug Smith, Lake City; 25. Adam Birck, Canton, Mo.; 26. Tim Eaton, St. Joseph, Mo.; 27. Doug Cook, Algona; 28. Tyler In­man, Altoona; 29. Charlie Stevens, Algona; 30. Bo Partain, Casa Grande, Ariz.