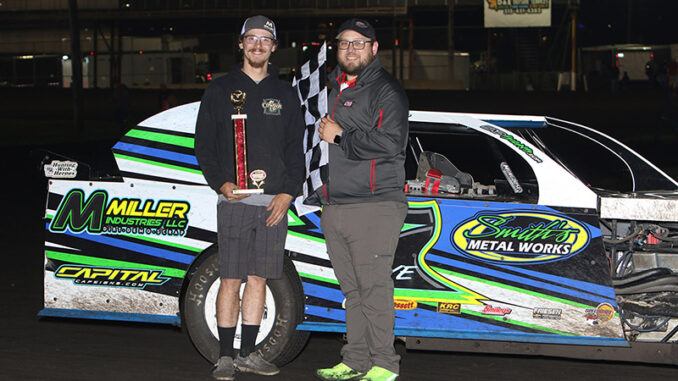 By Joyce Eisele
BOONE, Iowa (May 6, 2023) – After suffering three straight weeks of rain outs, the Boone Speedway finally got its regular season of track points racing underway on Saturday night and Danny Fye became a first-time Friesen Performance IMCA Northern SportMod feature winner.
Fye led all 20 laps, holding back the advances of Cole Fenske in the closing circuits in capturing the victory. Following second place Fenske was hard charger and 15th place starter Braden Richards in third.
Randy Bryan had a bit of luck on his side with his win in the Stealth Racing IMCA STARS Mod Lite contest. He had passed early leader Ben George on lap four to take over the number one spot, but was docked two spots for a jump on the start. He pulled away from the field and though running out front, was scored in third spot.
Luckily for him, a yellow flew at lap seven which realigned him in third spot for the restart, running behind George in first place and Bryan Zehm in second. He immediately was up to pester George and on lap 13 had the legitimate lead. He held it then to the flying checkers and win number one for the year. George held on to the runner-up spot and Josh May placed third.
Johnathon Logue looked to be a runaway winner in the Friesen Performance IMCA Modified contest but bad luck stepped up and bit him as he sailed along out in front of the field of cars. A lapped car spun and came to a halt in turn one, right in front of the leader, and with nowhere to go, contact was made.
A stop on the track under yellow would delegate Logue to the tail on that fateful lap 17 and rather than going to the tail with just three laps remaining, he exited the track. Second-running Todd Shute moved to the point position and went on to score the victory. Jake McBirnie scored a second place finish after starting 11th and 12th starting Jeremy Mills, 13th starting  Jimmy Gustin and 14th starting Paul Nagle completed the top five.
The Class Too Tough To Tame, the IMCA Sunoco Stock Cars ran a 20-lap feature, and it was Logue atoning from his disappointment in the Modified main by taking the win in dominating fashion.
Logue started third, ran down leader Troy Jerovetz on lap four and never looked back, pulling away from the rest of the field in a caution-free race.  Trailing a distant second was Jerovetz and a distant third was Kyle Everts.
The nightcap was 15 laps of IMCA Sunoco Hobby Stock racing, which may have been the most exciting racing of the entire night.
Most of the race saw Mike Smith dogging leader Solomon Bennett. No amount of pestering seemed to fluster Bennett as he held on to his lead.
However, the youngster had something up his sleeve in the closing moments. He threw a "White Castle slider" out of turn three on the final run to the checkers, and stuck it coming out of turn four to snatch the win. Bennett had to settle for the runner-up spot and John Watson ran third.