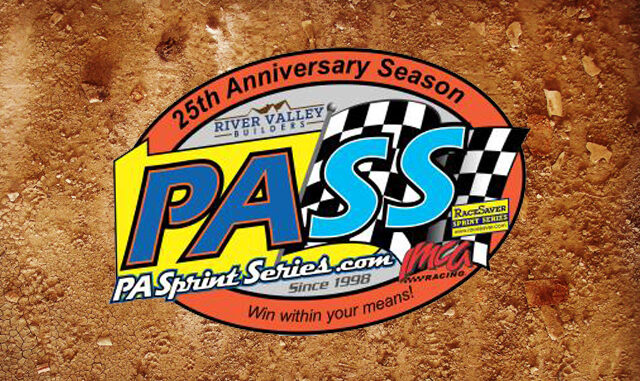 By Frank Buhrman
WILLIAMS GROVE, Pa. (April 14, 2023) – The River Valley Builders Pennsylvania Sprint Series heads into its first two-race weekend of its Silver Anniversary Season tonight (Friday) and Saturday with dates at one of its largest tracks, Williams Grove Speedway, and its smallest, Path Valley Speedway.
It's the ultimate test of IMCA RaceSaver Sprint Car driver versatility.
On Friday, PASS sprinters tackle the historic and lightning-fast Williams Grove oval as part of the track's Spring Sprint Special and it will be a victory of sorts if the race is run. PASS' early-season Grove race hasn't happened since 2018, with rain cancelling activities last year and in 2019, cold weather prevailing in 2020, and the stoppage of public events due to the COVID outbreak wiping 2020 off the schedule.
Those cancellations, plus departures of some past winners from the PASS ranks, mean that Austin Reed, last year's points runner-up, is the only current driver to have won at the Grove in the last six years. He took the feature on Sept. 17 of 2021. The only other past winner in the field is occasional PASS competitor Dave Brown Jr. of Aston, who grabbed the feature all the way back on July 1, 2016.
With three divisions on hand that need to be push-started, Williams Grove has limited the number of PASS entries, but plenty of challengers will be among them, including last week's Port Royal winner Logan Spahr of Lewisberry, fellow young gun and runner-up Seth Schnoke of Pine Grove, and the other top-5 finishers, Ken Duke Jr. of Selinsgrove, Dylan Shatzer of Hagerstown, Md., and Zach Rhodes of McVeytown. Reed and last week's Hard Charger, Josh Spicer of Julian, also are entered.
Long-distance visitors should include former Pennsylvanian Josh Harner from Texas; Jordan Welch from Indiana, and rookie Mia Koponen from Vermont.
Gates are scheduled to open Friday at 5:30 p.m., with racing starting at 7:30 (check social media for any last-minute, weather-related time changes). Adult general admission is $20 ($10 for youth 13-20).
On Saturday, the River Valley Builders PASS tour's favorite bullring, the quarter-mile Path Valley Speedway, runs its first of five 2023 programs, with the sprinters running a 25-lap feature along with action for the Wingless Super Sportsman cars, 270 and 600 Micro-Sprints, and 4-cylinder Thunder Cars.
Gates will open at 2:00 p.m., with warm-ups set to begin at 4:00, followed by qualifying events.
Six PASS events were run at Path last season, with the now-departed three-time champion Garrett Bard winning half of them. The other three were won by Kruz Kepner of Kreamer, Scott Frack of Gilbertsville, and Doug Dodson of Middletown, all of whom are expected to be in attendance.
Of the drivers entered as of early in the week, Dodson is the career wins leader with three. Other past winners expected include Donnie Hendershot of Clear Springs, Md., Mike Alleman of Port Royal (who grabbed his win almost exactly 22 years ago), John Scarborough of Bomoseen, Vt., and Jeff Weaver of Lock Haven.
By one count, this will be the 202nd PASS feature at Path Valley, which ran its first race for the series in August of 2000.
Adult general admission for Saturday's action is just $10 ($3 for kids 10 and under). Pit admission is $30, plus a one-time $5 membership for first-time competitors.
Following this weekend's action, River Valley Builders PASS tour racing moves to Selinsgrove Speedway, where PASS will be with the URC 360/358 Challenge program on Saturday, April 22.
For the latest news and schedule information, visit www.pasprintseries.com, the PA Sprint Series Facebook page, or @pasprintseries on Twitter.