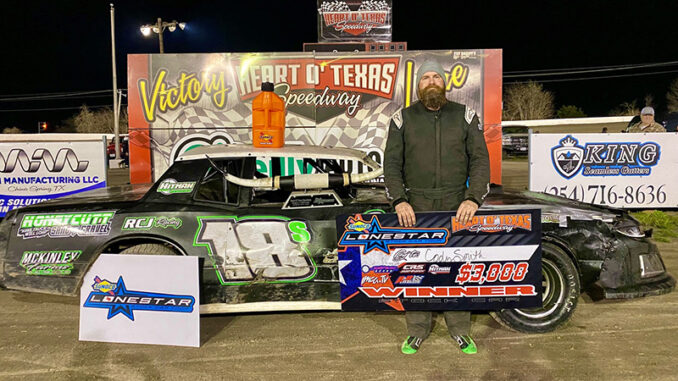 WACO, Texas (March 8, 2023) – While the track was new, the story was the same when the Cody Smith show traveled to Heart O' Texas Speedway for round four of the Sunoco Race Fuels Lone Star Tour presented by Sniper Speed.
Smith won for the fourth time in as many $750 to win Smiley's Racing Products IMCA Southern SportMod starts, then outran Jesse Sobbing to the $3,000 checkers following a late-race stoppage in the 30-lap IMCA Sunoco Stock Car headline event.
"We've been fortunate and gotten some pretty good draws," acknowledged Smith, who nonetheless had to work his way to the front from seventh starting in Wednesday's Stock Car feature. "We were excited to win this race. I can't believe we won two tonight."
Twentieth starting G.W. Egbert IV, Benji Kirk Patrick and early race leader Paul White rounded out the top five.
White drew the pole and led through the first 10 laps before two-wheeling his way high out of his line and watching Smith speed by following a lap 11 restart.
Gould and Sobbing would swap the second spot but neither could muster a challenge before or after three yellows over the second half of the contest. The race was then stopped following a multi-car melee that took out the third running Gould, Travis Hatcher and Michael Dabney with three laps to go.
White got a flat tire fixed quick and raced back to fifth; Angel Munoz rallied to sixth after a trip to the hot pit with 10 laps left.
Smith had also won both features Sunday at Devil's Bowl Speedway, becoming B & B Racing Chassis All-Star qualifying eligible with the Stock Car win, and takes an eight point advantage over White into the final tour show Thursday at Waco. Gates open at 5 p.m. and racing starts at 7 p.m.
IMCA.TV broadcasts each night of the Sunoco Race Fuels Lone Star Tour presented by Sniper Speed.
Feature results – 1. Cody Smith; 2. Jesse Sobbing; 3. G.W. Egbert IV; 4. Benji Kirkpatrick; 5. Paul White; 6. Angel Munoz; 7. Raymond McSpadden; 8. Thomas Hall Jr.; 9. Dean Abbey; 10. Jeffrey Abbey; 11. William Gould; 12. Travis Hatcher; 13. Michael Dabney; 14. Billy Vest; 15. Matt Boucher; 16. David Goode Jr.; 17. Jared Siefert; 18. Jason Rogers; 19. Shawn Graham; 20. Justin Luinenburg; 21. Shelby Williams.