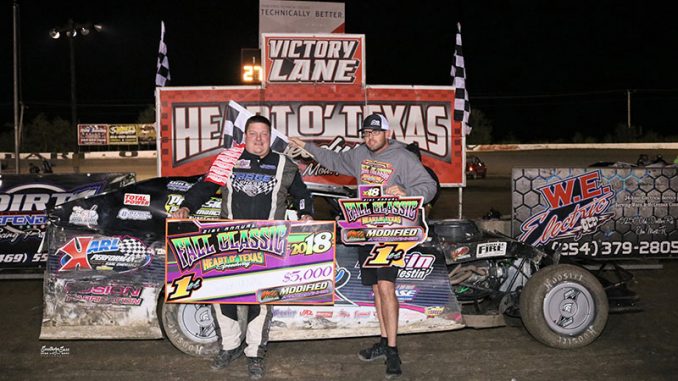 Wolla takes winning ways to Texas for $5,000 Fall Classic IMCA Modified checkers
WACO, Texas (Oct. 27) – Add Texas to the list of states Jason Wolla has scored first-time wins in this season.
Wolla topped the IMCA Modified main event at the Heart O' Texas Fall Classic, leading the last 15 of 25 circuits to earn the $5,000 top prize.
"The thing I liked best about this was that any time you can go to a track you've never been to and win, it says a lot about your race program," he said following his biggest IMCA career payday. "This season we went to Kansas, Montana and Texas and won for the first time in each state. We've had a lot of fun traveling."
Wolla had started fourth, was running second when a well-time caution came out and used multi­ple lines to work his way into the lead. He had a comfortable lead on the rest of the field when he caught up with lapped traffic late in the race.
Outside pole starter Anthony Roth ended in second while 11th starting Tom Berry was third. IMCA na­tional rookie of the year Jeffrey Abbey and 15th starting Kelly Shryock completed the top five.
Hard charger Cory Davis, winner of the $10,000 IMCA.TV Dirt Dominator race, advanced a dozen positions from his original starting spot to end in eighth.
"Heart O' Texas is a little bullring, a track with a lot of character," said Wolla, who counted 14 victo­ries at eight different tracks, plus a qualifying feature and the Harris Auto Racing Race of Champions at Boone Speedway during the IMCA Speedway Motors Super Nationals fueled by Casey's this season. "It's real small and definitely not what we're used to in North Dakota. I think it's similar to Benton County Speedway (in Iowa) where we've raced and won before. We defi­nitely take notes at the places we race and that helps you later on."
Wolla was already on the Fast Shafts All-Star Invitational ballot.
Nearly 300 cars packed the pits at HO'T for the 21st annual Fall Classic, completed despite wet weather leading up to the weekend. Gabe Tucker topped the $1,500 to win Smiley's Racing Products Southern SportMod feature and Benji Kirkpatrick motored to the $1,500 first prize for IMCA Sunoco Stock Cars.
Pole starter Tucker fell back to fourth in the Southern SportMod headliner as Jeff Sheppherd, Garrett Rawls and Eddie Grmela were faster early on.
"They were really quick," Tucker said. "It took me a little while to find my line. You had to get up on the wheel and be aggressive, which was hard to do and not run over your neighbor."
The 2018 national champion worked his way to the lead by midway, then inched away from the pack after the only caution waved on the 14th of 20 laps. Shepperd, Rawls and Brandon Geurin rounded out the top four.
Kirkpatrick had started outside the front row and slipped back a couple spots, then made a nifty move inside and led the last 18 times around the track in the Stock Car feature.
A multi-car tangle took out his closest challengers late in the contest. Dillon Smith started 14th and went from sixth to the runner-up position in the final two laps. Damon Hammond and Billy Wade were third and fourth, respectively.
Feature Results
Modifieds – 1. Jason Wolla; 2. Anthony Roth; 3. Tom Berry Jr.; 4. Jeffrey Abbey; 5. Kelly Shryock; 6. John Gober; 7. Garrett Higgins; 8. Cory Davis; 9. Kevin Green; 10. Eric Tomlinson; 11. Mat Hollerich; 12. Fred Wojtek; 13. Chris Morris; 14. Brandon Hood; 15. Chase Allen; 16. J.P. Dowell; 17. Nick Roberts; 18. Paul White; 19. Brian Schultz; 20. Kevin Sustaire; 21. David Goode Jr.; 22. Josh McGaha; 23. Jake Henderson; 24. Greg Dinsmore.
Southern SportMods – 1. Gabe Tucker; 2. Jeff Shepperd; 3. Garett Rawls; 4. Brandon Geurin; 5. James Guyton; 6. Eddie Grmela; 7. T.J. Green; 8. Tyler Bragg; 9. Taylor Florio; 10. Michael Mar­tin; 11. Joel Garcia; 12. Rusty Head; 13. James Hanusch; 14. Bobby Ortega; 15. Chris Chamber­lain; 16. Ray Smith; 17. Kevin Ward; 18. Jason Kingery; 19. Kyle Wilkins; 20. Kevin manning; 21. Hayden Wade; 22. Casey Brunson; 23. Brian Walker; 24. Collin Montgomery; 25. Chad Fitzger­ald; 26. Joe Browning; 27. Billy Lindsey.
Stock Cars – 1. Benji Kirkpatrick; 2. Dillon Smith; 3. Damon Hammond; 4. Billy Wade; 5. Tyler Muirhead; 6. Andy Roller; 7. Austin Smith; 8. Bryan Schutte; 9. A.J. Dancer; 10. Travis Norman; 11. Lewis Blackwood; 12. Brandon Prewett; 13. George Egbert; 14. Christopher Bruner; 15. Char­lie Brown; 16. Jason Riddle; 17. G.W. Egbert IV; 18. Dean Abbey; 19. Westin Abbey; 20. John Frydrych; 21. Jamey Lough; 22. Don Chamblee.