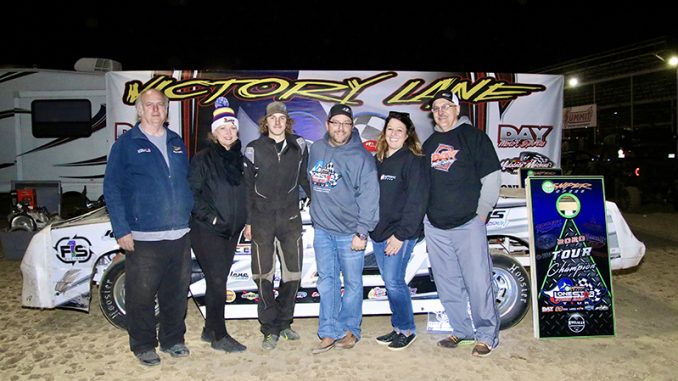 KENNEDALE, Texas (Feb. 22) – Derek Green got another win while Westin Abbey got a tour championship and a big check Saturday night at Kennedale Speedway Park.
Green, from Granada, Minn., prevailed in a $1,000 to win Sniper Speed Lone Star Tour finale that saw him trade the IMCA Sunoco Stock Car lead with Ryan Powers three times in the final laps before beating Jesse Sobbing to the finish line.
Home state hero Abbey, meanwhile, put the final, perfect tour attendance qualifying touches on a $10,000 bonus he'd made himself eligible for by winning features at Abilene Speedway and Texas Motor Speedway. His seventh place finish at KSP was also more than enough to secure the tour crown and $5,000 share of the accompanying point fund.
Powers had taken the lead on the second lap and was chased by Jason Josselyn, Aaron Benedict and then Jeffrey Abbey.
The race stayed green through the first 16 of 30 laps; the 11th starting Green was scored just ahead of Abbey on the 21st lap and was running side-by-side with Powers as they swapped the front spot at the end of laps 25-27.
Green was in the lead when the final caution waved with three to go. Sobbing, who had started 12th, took the high line around Powers for second on the restart, challenging but never catching Green the last two times around the oval.
Sixteenth starting Shelby Williams was fourth, Benedict fifth.
One hundred and one drivers from 13 different states competed in the third annual tour. Abbey was nine points better than Green in the final standings.
After scoring the opening night Ice Breaker win, Green topped the Lone Star show at Heart O' Texas Speedway. Abbey's other tour win came at Grayson County Speedway.
Philip Houston led all but the first two laps of an IMCA Modified feature at Kennedale that ran 30 caution-free circuits.
The $1,000, Fast Shafts All-Star Invitational ballot qualifying win came ahead of Glen Hibbard, Clay Money, Jeff Taylor and early leader Matt Martin.
Feature Results
Stock Cars – 1. Derek Green; 2. Jesse Sobbing; 3. Ryan Powers; 4. Shelby Williams; 5. Aaron Benedict; 6. Elijah Zevenbergen; 7. Westin Abbey; 8. Eric Rempel; 9. Peyton Taylor; 10. Demetrius Carter; 11. Dan Mackenthun; 12. Jason Batt; 13. Jeffrey Abbey; 14. Jason Josselyn; 15. Dustin White; 16. Dennis Bissonnette; 17. Dean Cornelius; 18. Mark Zorn; 19. Kirk Martin; 20. Blake Clark; 21. Abe Huls.
Modifieds – 1. Philip Houston; 2. Glen Hibbard; 3. Clay Money; 4. Jeff Taylor; 5. Matt Martin; 6. Mark Adams; 7. Shane DeMey; 8. Jesse Sobbing; 9. Anthony Roth; 10. Chad Melton; 11. Travis Hatcher; 12. Travis Bragg; 13. Mike Petersilie; 14. Lance Hanson; 15. Jon White Jr.; 16. Jim Thies; 17. Matt Guillaume; 18. Chris Gallien; 19. William Gould; 20. Treven Geter; 21. Adam James; 22. Larry Sanders.