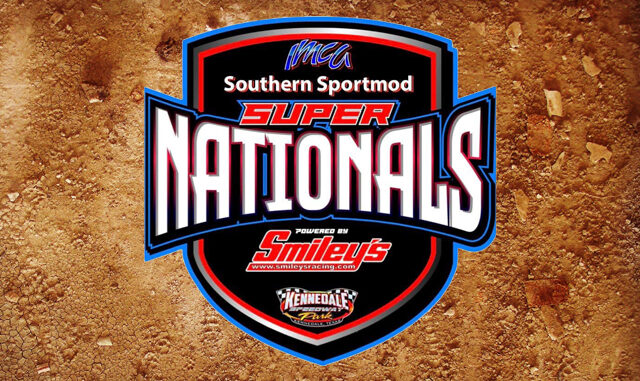 KENNEDALE, Texas (July 24, 2023) – Being able to host hall of fame night in conjunction with the second annual IMCA Southern SportMod Super Nationals powered by Smiley's Racing Products, says promoter James Lopez, is a pretty big deal.
Not having to take the detour from town to get to Kennedale Speedway Park will be a pretty big deal, too.
The new, wider bridge on New Hope Road that takes traffic over Kennedale Creek, to and past the track opened late last week.
Traffic of all shapes and sizes had been rerouted since last year, with the entrance to the pit area at KSP tantalizingly close but on the wrong side of the orange and black detour signs.
"If you knew how long you had to drive around to get to the track …" Lopez began. "It's a long ways, especially if you're coming from the north or the west and you're hauling a trailer. The detour was probably 10 miles. Smiley's isn't that far from here and you had to take the detour to get there, too."
"Now it's a straight shot in. This is a blessing," he continued. "That road being open will be a big deal, especially for people coming from out of town."
Lopez is expecting plenty of folks from plenty of places to make Kennedale Speedway Park their Sept. 7-9 racing destination. Smiley's Racing Products Southern SportMods race for $5,000 to win and a minimum of $500 to start their Saturday night main evet.
Practice is Thursday night, qualifying and the Generation Race Cars sponsored $1,000 to win, $100 to start All-Star race, open to any driver who has won a sanctioned feature by Aug. 31, are on Friday.
Saturday's 30-lap main event totes a purse of more than $20,000.
Generation Race Cars will also be giving out $1,800 in gift certificates during the Southern SportMod Super Nationals and co-sponsors the Thursday night pit party.
Landrum Springs, Dr. Pepper, AllPro Clutch Driveline, O'Reilly Auto Parts of Kennedale, Sunoco Race Fuel and BBD Racing help sponsor or give gift certificates or prizes as well and Dirt Defender is designing a custom wheel cover for the event.
Another big deal during the weekend will be the formal induction of 2021 and 2022 Wall of Fame classes at KSP.
To be recognized on Saturday for their years and sometimes decades of contributions on and off the track to racing will be Bob Bissonnette, Jerry and Jeannie Bransom, Jay Bransom, Darryl Campbell, Claud Estes, Mike Frieri, Tony Hernandez, Sonny Miller, James Moss, Paul Upchurch, Bret Young and Duane Wolfe.
Racers and other contributors who passed away recently will also be remembered with a separate memorial wall that day.
Early registration for the Southern SportMod Super Nationals is $65 and can be done through MyRacePass. Registration after Sept. 1 will be $95.
More information will be available from Lopez at 817 478-7223.