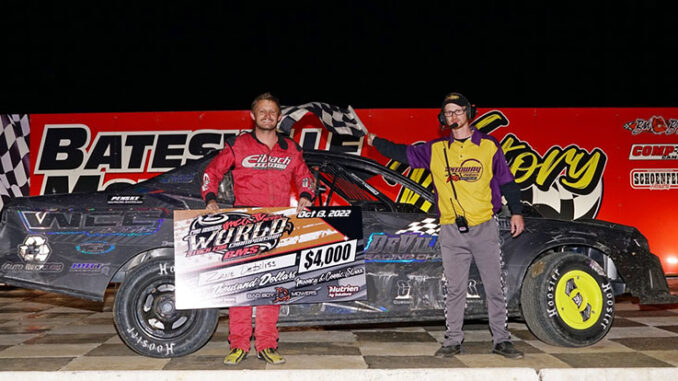 BATESVILLE, Ark. (Oct. 13-14, 2022) – He might have to travel 1,100 miles to get there but Zane DeVilbiss still feels right at home at Batesville Motor Speedway.
The New Mexico long tow topped Thursday and Friday night IMCA.TV World Stock Car Championship features at the Arkansas speedplant, earning $4,000 for each IMCA Sunoco Stock Car victory.
"I feel like Batesville is a cross between Desert Thunder Raceway (in Utah) and Fairgrounds Speedway (in Colorado), two of our home tracks. It has the shape of price and the dirt consistency of Cortez," said the two-division star and 2021 Race For Hope 71 Modified winner, newly eligible to qualify for the B & B Racing Chassis All-Star Invitational. "It kind of fits the skill set I have growing up on those two tracks or, as Jeff Taylor would say, where I cut my teeth on."
DeVilbiss drew the pole start for the Thursday show and led all 40 laps, winning ahead of Peyton Taylor, Chanse Hollatz, T.J Herndon and Jeffrey Abbey.
That checkered was the first in the car he built late summer and debuted during the IMCA Speedway Motors Super Nationals fueled by Casey's.
DeVilbiss worked his way to the front from fifth starting on Friday, sneaking into the lead on the lower line and leading the last 30 laps en route to his second win in as many nights.
"Everything aligned for us Thursday night," DeVilbiss said. "I won my heat from fourth, drew the pole for the feature and sliced and diced with Peyton before I ended up winning."
"The track was tricky starting with our heat race on Friday night but I was still able to win that," he continued. "I drew five for the main and was able to get to the front 10 laps in. That race was less eventful but more stressful."
Abbey, Tathan Burkhart, Hollatz and Herndon completed the top five.
Wednesday's scheduled 40-lapper was lost to inclement weather. DeVilbiss also earned a $700 bonus for his two-night World Stock Car Championship sweep.