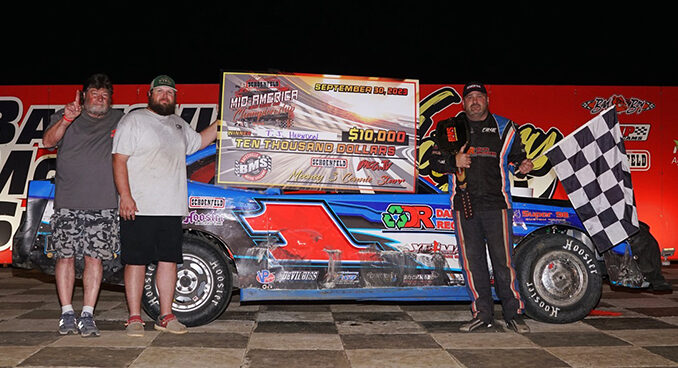 BATESVILLE, Ark. (Sept. 30, 2023) – A win that's been a long time coming came Saturday night for T.J. Herndon.
Herndon led the last 29 of 50 laps and banked $10,000 after the long green flag run that ended the 28th annual Schoenfeld Headers Mid-America IMCA Sunoco Stock Car Championship at Batesville Motor Speedway.
"I've been after this one for 10 or 15 years. It took me a long time," said Herndon, from Atwood, Tenn., and newly guaranteed a starting spot in the 2024 B & B Racing Chassis All-Star Invitational. "I feel like I had two or three taken away from me but we finally got one."
There was no taking anything from Herndon once he worked his way from fourth starting to the front on lap 22, passing Zane DeVilbiss and outrunning early leader Troy Burkhart the rest of the caution-free distance.
"I was just praying 'Please don't let the caution come out,'" said Herndon, fully aware of an ailing car ahead of him trying to stay out of the way and get off the oval. "I didn't want a restart. I had a pretty good lead and the track was cleaned off."
Burkhart led the first 14 circuits from the pole and crossed the stripe two seconds behind Herndon. DeVilbiss, already familiar with the view from victory lane at Batesville and winner of the Friesen Performance IMCA Modified feature earlier in the evening, ended in third.
Burkhart's son Tathan started 10th and finished fourth; fifth went to Dallon Murty.
DeVilbiss was a lapped car ahead of Troy Burkhart and Herndon when lap 19 was scored. The second and final caution of the race came out on the next lap and Herndon had the lead for good when lap 22 went into the books.
He caught the back of the field with eight to go and still won by more than two seconds.
"I really didn't want to get into them too deep," said Herndon, who'd also won the Sept. 16 weekly feature at Batesville. "I didn't want to get out of my lane."
"It all worked out."
Randy Weaver paced home state drivers with his sixth place finish and defending race winner Troy Jerovetz was seventh.
Both nights of the Mid-America IMCA Stock Car Championship were broadcast by IMCA.TV.
Feature results – 1. T.J. Herndon, Atwood, Tenn.; 2. Troy Burkhart, Hays, Kan.; 3. Zane DeVilbiss, Farmington, N.M.; 4. Tathan Burkhart, Hays, Kan.; 5. Dallon Murty, Chelsea, Iowa; 6. Randy Weaver, Little Rock; 7. Troy Jerovetz, Iowa Falls, Iowa; 8. Wayne Brooks, Bald Knob; 9. Richie Tosh, Salado; 10. Cody Smith, Kaufman, Texas; 11. Jeremy Kuykendall, Little Rock; 12. Dale Nelson, Milan, Tenn.; 13. Peyton Taylor, Batesville; 14. Hunter Rasdon, Jonesboro; 15. Tommy New, Dover; 16. Casey Findley, Bryant; 17. Hayden Linn, Little Rock; 18. Joe Payne, Concord; 19. Scooter Scruggs, Little Rock; 20. Tony Anglin, Walnut Ridge; 21. Jim Philpot, Greenwood; 22. Ashton Wilkey, Batesville; 23. Drake Findley, Bryant; 24. Haydan Hartwick, Tumbling Shoals; 25. Brandon Rowland, Nashville; 26. Stephen Morrow, Batesville; 27. Shawn Graham, Shreveport, La.