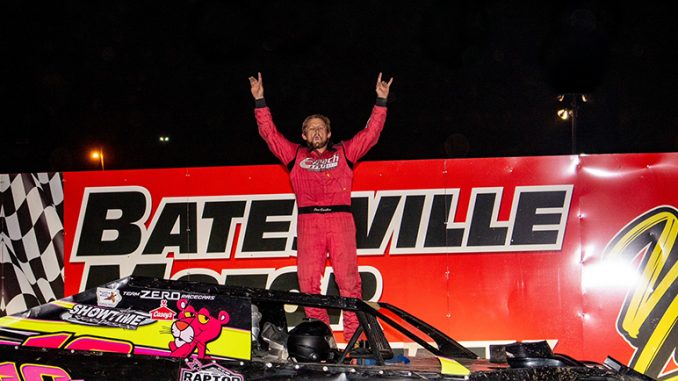 BATESVILLE, Ark. (Sept. 23) – Zane DeVilbiss drove from the outside of row three to the checkers in winning the night two qualifying feature for IMCA Modifieds at Batesville Motor Speedway's Race For Hope 71. 
The New Mexico speedster bested hard charger Tripp Gaylord, a plus 12 on the night, in taking the Thursday win and earning the starting spot at the front of the middle row for Saturday's $50,000 to win main event.
"I tried the outside, then went to the bottom and got the lead around lap six," said DeVilbiss, who won with the same setup that earned him the Harris Clash victory in August. "The race stayed green after I got into the lead and we were just catching traffic at the end."
DeVilbiss and Gaylord were chased across the stripe by Tom Berry Jr., Wendell Wallace, Jordan Grabouski, Peyton Taylor, Terry Phillips, Jeff Aikey and Mike Mullen.
Outside row qualifying is Friday with the first green flag set for 7:30 p.m.
Feature results – 1. Zane DeVilbiss, Farmington, N.M.; 2. Tripp Gaylord, Lakewood, Colo.; 3. Tom Berry Jr., Des Moines, Iowa; 4. Wendell Wallace, Batesville; 5. Jordan Grabouski, Beatrice, Neb.; 6. Peyton Taylor, Batesville; 7. Terry Phillips, Springfield, Mo.; 8. Jeff Aikey, Cedar Falls, Iowa; 9. Mike Mullen, Seymour, Wis.; 10. Roger Witt, Batesville; 11. Troy Morris III, Bakersfield, Calif.; 12. Benji LaCrosse, Green Bay, Wis.; 13. Brian Mullen, Seymour, Wis.; 14. Mikey Bell, Quitman; 15. Tanner Black, Otis, Kan.; 16. Collin Thirlby, Traverse City, Mich.; 17. Kyle Brown, Madrid, Iowa; 18. Matt Bonine, Onawa, Iowa; 19. Shane DeVolder, Pacifica, Calif.; 20. Travis Hatcher, Honey Creek, Iowa; 21. Ashton Wilkey, Batesville; 22. Neal Flowers, Hobbs, N.M.; 23. Ethan Braaksma, Newton, Iowa; 24. Rusty Jeffrey, Batesville; 25. Donnie Barnhart, North Little Rock; 26. Chuck Sanders, Little Rock; 27. Clay Norris, Searcy; 28. Drake Findley, Bryant; 29. Dennie Gieber, Frankston, Texas; 30. Ricky Alvarado, Delta, Colo.