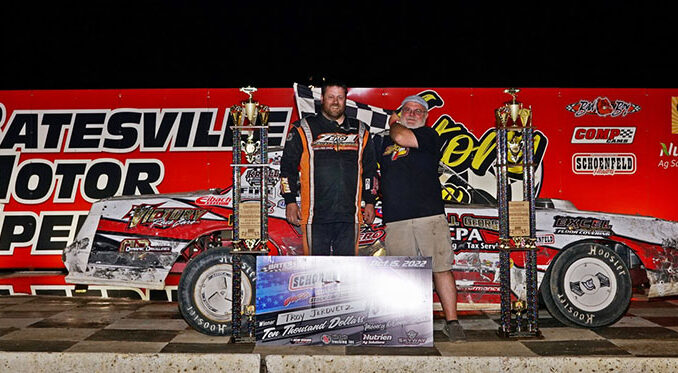 BATESVILLE, Ark. (Oct. 15, 2022) – After an inauspicious start to the week, his third visit to Batesville Motor Speedway proved to be a $10,000 charm for Troy Jerovetz.
Jerovetz raced from 15th starting to win Saturday's Schoenfeld Headers Mid-America IMCA Sunoco Stock Car Championship. He collected the career-best payday after getting the front spot back from Zane DeVilbiss twice before leading the last 11 times around the track in the 50-lapper.
"The biggest things we talked about before the race were saving our equipment, passing cars one at a time and seeing where we ended up," said Jerovetz, from Iowa Falls, Iowa, and now guaranteed a starting spot in the B & B Racing Chassis All-Star Invitational. "This was definitely my biggest win and definitely the biggest win from the furthest back."
"I saw Zane on the outside at the point when we were committed to the bottom," he continued. "From there we just kept hitting our marks and let the best car win."
DeVilbiss, winner of Thursday and Friday night World Stock Car Championship shows at Batesville, qualified for the Mid-American Championship main out of a 'B' feature and started 19th.
He'd end in second, ahead of hometown driver Peyton Taylor. A four and sometimes five-wide battle ended with Tathan Burkhart and Randy Weaver next across the line.
The 17th starting Chanse Hollatz was sixth.
Robbie Arnold led the first 15 laps before Weaver took charge following a restart.
Jerovetz and DeVilbiss were already running 3-4 when that caution came out. Jerovetz was in and out of the lead three times, battling Weaver past halfway and running just behind DeVilbiss at the stripe on laps 32 and 38, before taking over up front for good.
The checkers marked an end to a week that began with Jerovetz becoming a quick DNF on the first night of the World Stock Car Championship, breaking on the opening lap.
"I think the fans had a pretty good race to watch on Saturday," said Jerovetz, the winner in a Tracy Thrun-owned 2021 Victory ride. "Batesville is probably the fastest track I've been to. You carry a lot of speed there."
"I've raced for 26 years (11 of them in a Stock Car) and this was my biggest win. I got the biggest trophy to put in the trophy case and the biggest cardboard check."
The 27th annual Schoenfeld Headers Mid-America Stock Car Championship had been rained out and rescheduled from September.
Feature results – 1. Troy Jerovetz; 2. Zane DeVilbiss; 3. Peyton Taylor; 4. Tathan Burkhart; 5. Randy Weaver; 6. Chanse Hollatz; 7. Elijah Zevenbergen; 8. Jeffrey Abbey; 9. Jack Sullivan; 10. T.J. Herndon; 11. Jeff Taylor; 12. Abe Huls; 13. Dale Nelson; 14. Joe Payne; 15. Patrick Linn; 16. Dillon Knight; 17. Tommy New; 18. Cody Lowe; 19. Troy Burkhart; 20. Mikey Bell; 21. Richie Tosh; 22. Robbie Arnold; 23. Angel Munoz; 24. Taylor Carver; 25. Brad Hartwick.