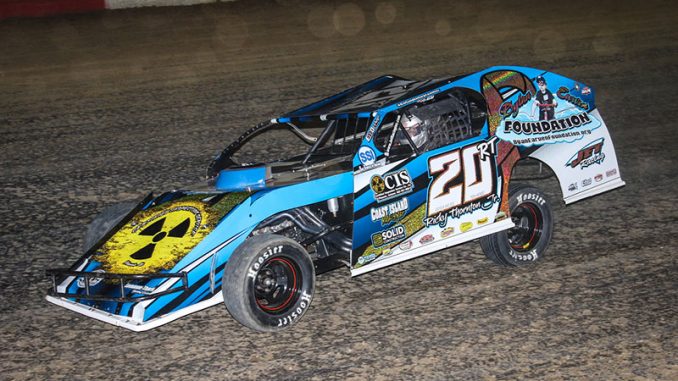 By Mike Spieker
BATESVILLE, Ark. (Sept. 26) – Picking up where he left off last year, Ricky Thornton Jr. raced to the opening night feature win of Mark Martin's Race For Hope 74 at Batesville Motor Speedway.
Thornton, who is the defending champion of the Race For Hope 74, led all 30 trips around the high-banked three-eighths mile clay oval en route to the Wednesday evening IMCA Modified win.
"The car was really good tonight. I was able to jump out front and really run my own race," said Thornton after the race. "We'll probably make a few small changes for Saturday but we are ex­cited to roll from the pole."
The top eight finishers in the Wednesday qualifier are locked into Saturday's $20,000-to win, 74-lap main event. Those drivers include Thornton, Cayden Carter, Jason Hughes, Justin Kay, Drew Armstrong, Ken Schrader, Zack VanderBeek and Joel Rust.
Armstrong ran in the runner-up position until the lap 12 restart when Hughes snuck underneath him in turns one and two. On the following circuit, 10th place runner Jake O'Neil made heavy con­tact into the turn two outside retaining wall to bring out the caution again. O'Neil was OK but done for the night.
Thornton opened up a somewhat comfortable lead as the race resumed, but lapped traffic in the closing laps enabled Hughes and Carter to close in.
Hughes pulled up to Thornton's left rear quarter panel with four laps remaining but just as he did, Thornton cleared himself of traffic. Hughes and Carter raced for the runner-up position behind lapped traffic, which allowed Thornton to check out. Thornton cruised to the win as Carter stole the second spot from Hughes coming to the white flag.
"You always at least want to make the show, especially after winning it here last year," said Thornton.
The "B," "C" and "D" mains were all postponed due to rain.
Racing continues Thursday at Batesville with the grandstands opening at 4 p.m. The consolation features for Wednesday night's program will be run at 5 p.m. with the regularly scheduled pro­gram starting at 7 p.m. Grandstand tickets purchased on Thursday are good for both the makeup consolation features and the regularly scheduled program.
Feature results – 1. Ricky Thornton, Jr.; 2. Cayden Carter; 3. Jason Hughes; 4. Justin Kay; 5. Drew Armstrong; 6. Ken Schrader; 7. Zack VanderBeek; 8. Joel Rust; 9. Timmy Culp; 10. Kyle Strickler; 11. Richie Gustin; 12. Cade Dillard; 13. Kurt Kile; 14. Tim Ward; 15. Jason Wolla; 16. Rodney Sanders; 17. Jesse Dennis; 18. Kyle Brown; 19. Shawn Walsh; 20. Steven Bowers Jr.; 21. Chase Allen; 22. John Burrow Jr.; 23. Randy Weaver; 24. Wendell Wallace; 25. Jake O'Neil; 26. David Stremme; 27. Brint Hartwick; 28. Chad Mallett; 29. Tyler Stevens; 30. Terry Phillips.