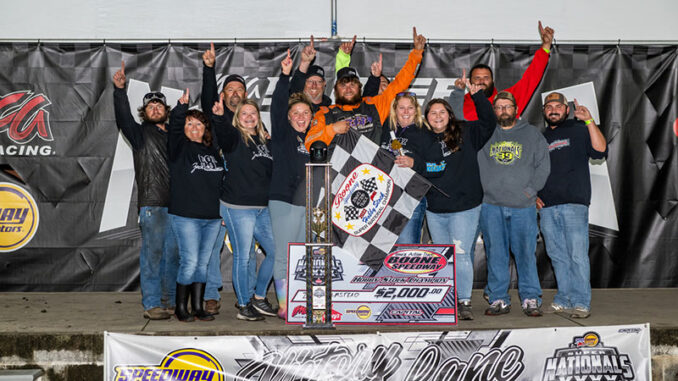 BOONE, Iowa (Sept. 10, 2022) – Zach Olmstead thought he had the car to win the Saturday show at Boone Speedway last September.
That same ride took him straight to the history book at the 40th annual IMCA Speedway Motors Super Nationals fueled by Casey's.
Olmstead became the first driver to win both the Stephenville Starter Race of Champions and the Hobby Stock championship event at the same Super Nationals, topping Tuesday's RoC and the Big Dance on Saturday.
He had worked his way up from 10th starting and was running close, but not too close, to the front stretch calamity that kayoed race-long leader Brandon Nielsen, defending champion Mike Smith and Jimmy Johnson.
"It's humbling," said Olmstead, who had finished fourth in his one prior main event start, in 2018. "Last year we won the Prelude and the race of champions. I felt like we had a winning car but got taken out and didn't qualify. This year I wanted to go back and prove it."
Still on board the same 2019 Brendan Eilts Racing & Fabrication-built ride, Olmstead was fourth in his opening night qualifier and started 10th in the main event.
"I got shuffled back to 13th or 14th. I was stuck on the bottom until we had a restart and I was able to get to the top and work my way forward," he said. "It was a lot of fun. The track cleaned off really good and once I had clean air I could go where I needed to."
"Once I got to the top, everything clicked."
Everything was clicking for Nielsen through the first 20-plus laps. He'd stayed in front despite contact that sent challenger Malik Sampson sideways out of second and then got the best of Smith in a back-and-forth fight for the lead on lap 22.
His race would end after a three-wide race for the lead the next time around, as he caught the wall coming to the flag stand and ended up on his side just on the other side of the stripe, Smith and Johnson both damaged and stopped on the track close by.
Olmstead restarted at the front and took the $3,000 checkers ahead of Justin Frederick, one of 15 first-time qualifiers in the field of 30; 2019 champion Dylan Nelson was third and Michael Kimm was fourth.
Josh Sidles took fifth and Solomon Bennett's long drive from 26th starting ended in sixth.
"After last year, I thought about this all winter and all summer," said Olmstead, from Overton and the second Nebraska driver to wear the Super Nationals Hobby Stock crown. "We worked really hard to get here. It all worked out."
Jason Wilkinson of Neligh, Neb., reigned at Boone in 2010 and 2015. Avoca's Corey Madden was the first driver to win the Race of Champions in back-to-back years, in 2018 and 2019.
Eric Stanton made his division record 13th start in the Saturday show, John Watson his 11th and Nielsen his eighth.
Super Nationals was broadcast by IMCA.TV.
Feature results – 1. Zach Olmstead, Overton, Neb.; 2. Justin Frederick, Cleghorn; 3. Dylan Nelson, Adel; 4. Michael Kimm, Vinton; 5. Josh Sidles, Emmetsburg; 6. Solomon Bennett, Minburn; 7. John Watson, Des Moines; 8. Eric Stanton, Carlisle; 9. Adam Hensel, Atlantic; 10. Tristan Grape, Columbus, Neb.; 11. Colby Christensen, Audubon; 12. Matt McDonald, Scranton; 13. Brett Vanous, Quasqueton; 14. Malik Sampson, Worthington, Minn.; 15. Parker Anderson, Welcome, Minn.; 16. Gavin Bussinger, Granada, Minn.; 17. Kyle Parizek, Hartwick; 18. James Johnson, Cherokee; 19. Jim Ball Jr., Independence; 20. Skylar Pruitt, Stuart; 21. Jacob Robinson, Minot, N.D.; 22. Calvin Dhondt, Kellogg; 23. Brandon Nielsen, Spencer; 24. Mike Smith, Lake City; 25. Aaron Martin, Sigourney; 26. Brandon Cox, Norwalk; 27. Tanner Clough, Wallace, Neb.; 28. Les Lundquist, Sioux City; 29. Riley Christensen, Audubon; 30. Seth Janssen, Ogden.