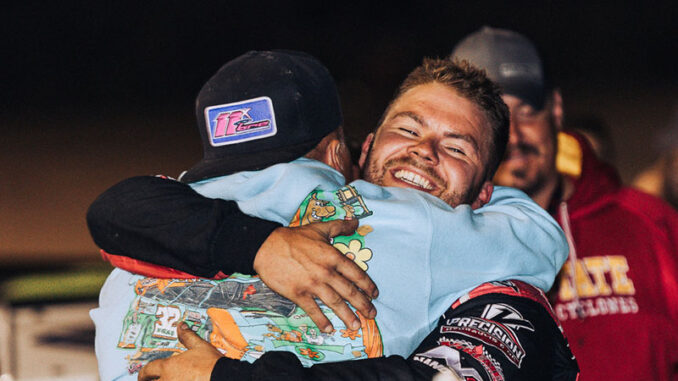 BOONE, Iowa (Sept. 10, 2022) – A season that's seen more than its share of high points for Tom Berry Jr. saw its highest on Saturday, in the final race of the 40th annual IMCA Speedway Motors Super Nationals fueled by Casey's.
Berry added the title of Super Nationals champion to his already lengthy IMCA resume, passing Kollin Hibdon just before midway and leading to the end of the 40-lap Modified feature.
More than 250 Modifieds were among the record 1,000 cars that competed at Boone Speedway during the week and Berry had the fastest of them in taking the $10,000 top check.
"This was definitely our biggest win. It means a lot to our entire team," said Berry, who won a host of special events around the Midwest leading up to Super Nationals. "We have been coming here since 2014 and we've been competitive the last four years."
"We've had our ups and downs at Boone," continued the Oregon native, fourth in the Big Dance on 2020 and the first car out of last year's main event. "We worked hard all season, caught our break on Friday and shut down the haters. Winning Super Nationals has been our big goal, we've achieved that and now we're on top."
Hibdon and Cody Thompson, winner of Friday's Fast Shafts All-Star Invitational was third. Canadian clipper Aaron Turnbull ran fourth and 2018 champion Jeff Aikey completed the top five.
Modified entries from 22 states and four provinces competed at Boone and a dozen states and Saskatchewan were represented in the Big Dance.
Hibdon had Thompson hot on his heels as the front pair were catching up to the back of the field before a caution.
Thompson got out of line on the restart to open the door for Berry, who stalked and then caught Hibdon for the lead on lap 19.
"It seemed like I ran third forever, and after I got to second I was able to stay within three or four car lengths of him," Berry said. "I was finally able to get under Kollin. We had a really good car and once I got in front I focused on not making any mistakes and keeping it straight." 
Berry paid tribute to his late father, who had been so instrumental in his career, and thanked his race team before stepping into the stage at the NAPA Fan Zone for post-race pictures.
The transplant to the Midwest is the fourth Modified driver in as many years with West Coast ties to win the championship at Super Nationals, following Ethan Dotson, Ricky Thornton Jr. and Cody Laney to the top step of the podium.
"We've learned how to race and not make mistakes when we come out here," said Berry, who won his first regional crown racing out of North Dakota and then the national championship in 2020 after becoming Iowa-based. "It's like a Sunday drive. The tracks are racy and smooth and fun."
Ten drivers made career-first Big Dance starts. Former champs Todd Shute and Jimmy Gustin made career 13th and 15th starts, respectively, while Kelly Shryock qualified for the championship show for the 16th time.
Feature results – 1. Tom Berry Jr., Altoona; 2. Kollin Hibdon, Pahrump, Nev.; 3. Cody Thompson, Sioux City; 4. Aaron Turnbull, Estevan, Sask.; 5. Jeff Aikey, Cedar Falls; 6. Jared Siefert, Luxemburg, Wis.; 7. Jimmy Gustin, Marshalltown; 8. Zane DeVilbiss, Farmington, N.M.; 9. Todd Stinehart, Waseca, Minn.; 10. Jacob Hobscheidt, Plattsmouth, Neb.; 11. Drew Janssen, Pella; 12. Ethan Braaksma, Newton; 13. Tanner Black, Otis, Kan.; 14. Bricen James, Albany, Ore.; 15. Cody Laney, Torrance, Calif.; 16. Ryan McDaniel, Olivehurst, Calif.; 17. Steven Bowers Jr., Topeka, Kan.; 18. Brandon Beckendorf, Danube, Minn.; 19. Grey Ferrando, Stayton, Ore.; 20. Ashton Wilkey, Batesville, Ark.; 21. Brandon Schmitt, Beaver Dam, Wis.; 22. Jordy Nelson, Marysville, Kan.; 23. Jake Pike, Pahrump, Nev.; 24. Kelly Shryock, Fertile; 25. Todd Shute, Norwalk; 26. Cory Sauerman, Johnston; 27. Ricky Alvarado, Delta, Colo.; 28. Justin O'Brien, West Union; 29. Johnathon Logue, Logansport; 30. Bob Moore, Sioux City; 31. Aaron Johnson, Brainerd, Minn.; 32. Dylan Thornton, Santa Maria, Calif.; 33. Jeff Larson, Freeport, Ill.