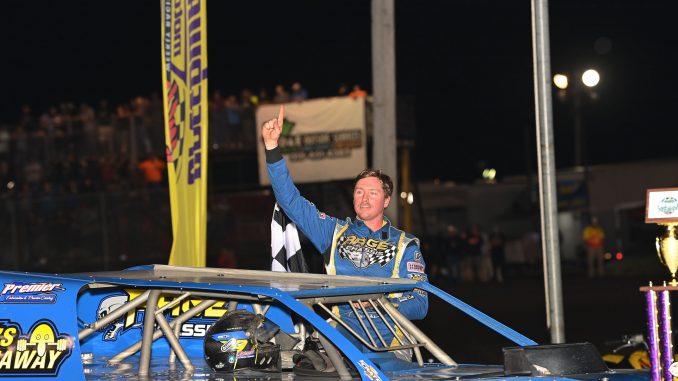 BOONE, Iowa (Sept. 4) – Tim Ward and Dallon Murty will precede the IMCA Speedway Motors Super Nationals fueled by Casey's with Saturday night Prelude feature wins.
Ward led the last 21 of 30 laps in winning the IMCA Modified feature and $1,080; Murty caught Michael Jaennette with seven circuits left in the 30-lap finale at Boone Speedway, earning $800.
One hundred and thirty Modifieds and 115 Stock Cars saw Prelude action while 49 STARS Mod Lites ran race of champions heats and their first night of Super Nationals qualifying.
Already Fast Shafts All-Star Invitational qualifying eligible, Ward started sixth, was running second by lap seven and was half a car length ahead of Joel Bushore when lap nine was scored.
The only caution came on lap 23 to erase Ward's big lead and he was just fast enough coming out of the final turn to outrun Cody Laney to the checkers.
Mike Mashl, Jeremy Mills and 14th starting Todd Shute completed the top five.
Mike Stapleton led the first two laps in the Stock Car main before Jaennette squeaked ahead by the width of his bumper at the end of lap three.
He stayed in front 'til Murty went to the top side for the lead following the only restart, with five laps left. With the checkers out, 10th starting Devin Smith Devin Smith challenged but Murty, already in the B & B Chassis All-Star Invitational field, made a nifty move to the lower line coming out of the final turn.
Jaennette, Thornton and 13th starting Kelly Shryock completed the top five.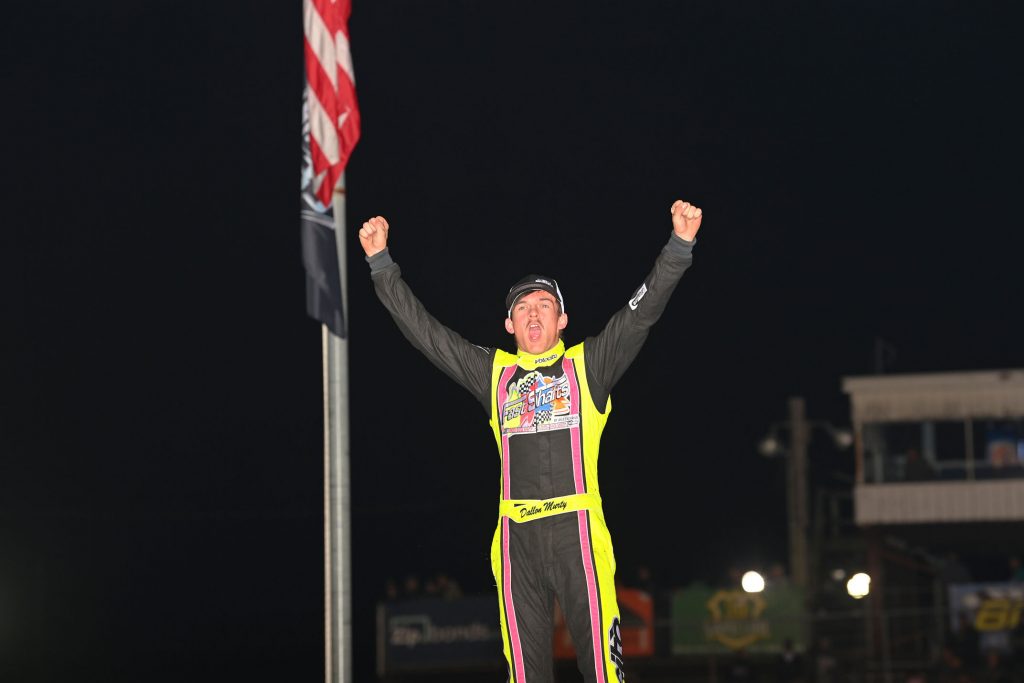 Dallon Murty was the IMCA Sunoco Stock Car Prelude winner Saturday at Boone Speedway. (Photo by Tom Macht, www.photofinishphotos.com)
Northern SportMods, Hobby Stocks and Sport Compacts are on the Sunday Prelude card, along with the race of champions, qualifying and main event for STARS Mod Lites.
Feature Results
Modifieds – 1. Tim Ward, Harcourt; 2. Cody Laney, Torrance, Calif.; 3. Mike Mashl, DePere, Wis.; 4. Jeremy Mills, Clear Lake; 5. Todd Shute, Norwalk; 6. Timothy Culp, Prattsville, Ark.; 7. Jordy Nelson, Marysville, Kan.; 8. Jake McBirnie, Boone; 9. Joel Rust, Grundy Center; 10. Troy Morris III, Bakersfield, Calif.; 11. Randy Brown, Chowchilla, Calif.; 12. Kelly Shryock, Fertile; 13. John Parmeley, Phoenix, Ariz.; 14. Shane DeMey, Denison; 15. Rob Charapata, Green Bay, Wis.; 16. Joel Bushore, Boone; 17. Kyle Brown, Madrid; 18. Clay Money, Penokee, Kan.; 19. Nick Roberts, Des Moines; 20. Paul Nagle, Nevada; 21. Doug Smith, Lake City; 22. Jerry Flippo, Bakersfield, Calif.; 23. Jimmy Gustin, Marshalltown; 24. Curtis Barnes, Lindsborg, Kan.
Stock Cars – 1. Dallon Murty, Chelsea; 2. Devin Smith, Lake City; 3. Michael Jaennette, Kellogg; 4. Dylan Thornton, Santa Maria, Calif.; 5. Kelly Shryock, Fertile; 6. Kyle Brown, Madrid; 7. Donavon Smith, Lake City; 8. Mike Stapleton, Denison; 9. Jeff Mueller, Albion; 10. Bo Partain, Casa Grande, Ariz.; 11. Jay Schmidt, Tama; 12. Tathan Burkhart, Hays, Kan.; 13. Eric Cross, Salina, Kan.; 14. Jason Rogers, Selden, Kan.; 15. Jared Siefert, Luxemburg, Wis.; 16. Justin Nehring, Storm Lake; 17. Anthony Hofbauer, Huxley; 18. Andrew Fidler, Elwell, Mich.; 19. Luke Lemmens, DePere, Wis.; 20. Troy Jerovetz, Iowa Falls; 21. Benji Legg, Beatrice, Neb.; 22. Jeremy Christians, Horicon, Wis.; 23. Damon Richards, David City, Neb.; 24. Todd Reitzler, Grinnell.