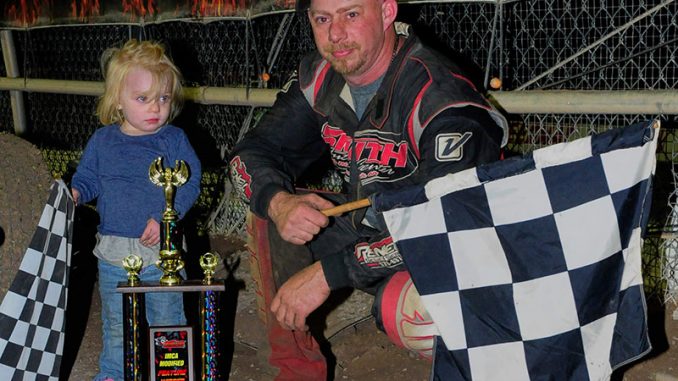 COLUMBIA CROSSROADS, Pa. – A year and a half ago, doctors were telling Brad Smith he'd never race again. 
In July, his family, friends and fellow IMCA Modified drivers were calling and texting to congratu­late the Columbia Crossroads, Pa., driver on his election to the Fast Shafts All-Star Invitational.
He'll become just the second Pennsylvania driver in the 16-year history of the event to start the Friday night special at the IMCA Speedway Motors Super Nationals fueled by Casey's.
"Words can't describe it," said Smith, who had earned his place on the All-Star ballot by topping Summer Nationals at Outlaw Speedway. "I've been to Boone the last four years. See­ing all that takes place makes my hair stand up. The All-Star Invitational is one of the most prestig­ious races in IMCA." 
Being able to race was first and foremost in his mind following a Jan. 12, 2018 traffic accident on his way home from work, after staying late to wrench on a race car at his shop in Horseheads, N.Y.
The head-on crash left Smith with a badly broken right foot.
"I was told I'd be lucky to walk again, that there was a high likelihood they'd have to amputate," said Smith, leery at the thought of racing with a prosthetic. "I had five surgeries and seven months of not walking on that foot. I didn't feel comfortable on crutches so I used a walker or wheelchair around the house or a knee scooter."
Once he was healthy enough to race, driving his tow rig to the track was as challenging as driving his car around it. Smith used crutches and a walking boot for much of his 2018 campaign.
"It was mid-August before I started walking without the boot. I didn't know if I'd make it to Boone," he said. "I missed a lot of early starts and wasn't in the point battle but I still won four times at Out­law."
He'd matched that total by early August, with two checkers at Thunder Mountain Speedway and one win each at Afton Motorsports Park and at Outlaw.
"This year has been a lot better for me than last year in terms of being able to race and travel," Smith said. "It seems we've had a lot of bad luck gremlins this year that have kept us out of the top three."
Smith will have a couple nights to figure out the surface at Boone before Friday's All-Star Invita­tional. Regardless of the finish, he knows it will be a career kind of highlight.
"Starting the All-Star race means a lot to us," he said. "To have been elected by the fans is unbelieva­ble."