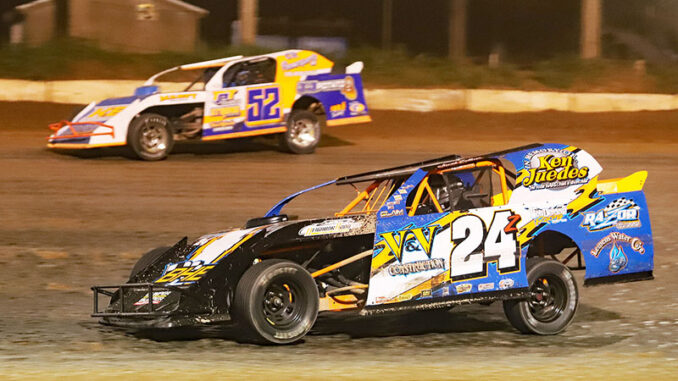 FRANCIS CREEK, Wis. (Aug. 18, 2022) – The third time was the charm Thursday night for Jacob Zellner.
Making his career third start at 141 Speedway's Captain of the Creek special for Friesen Performance IMCA Northern SportMods, the 2021 track champion finally got the best of Dylon Waldvogel late in the 50-lapper at Francis Creek.
The $10,000 checkers marked a career-best payday for Zellner, who'd run 21st and 17th in his two previous Captain of the Creek outings.
"Up to this point, we had nothing but bad luck in the big shows, so this was a big win for us, for sure," he said. "It felt kind of surreal. Usually I'm pretty calm but when the checkers flew it was like 'Wow!'"
"There are definitely expectations for a defending track champion at an event like this," continued Zellner. "I've raced regularly with Dylon and we always race each other clean. I was glad to be racing at the front with him."
Seventy-three entries from seven states were on hand for the Aug. 17-18 special. Elijah Koenig, 24th starting Cory Kemkes and Jake Carpenter completed the top five.
First and second in his opening night heats, Zellner started outside row two and fell back one spot before working his way up to second, swapping the front spot with Waldvogel before taking over up front for good.
"I had a lot of good luck as far as starting position and was really happy with that. I finished second in passing points and then started fourth," he said. "I was glad to get the second row. I didn't want the front. You're kind of a sitting duck up there, not knowing where the fast line is."
Cautions kept lapped traffic from becoming a factor and Zellner took the fast line away from his challengers on the ensuing restarts. Zellner and Waldvogel ran a close 1-2 with the rest of the top five cars close behind.
"It was bumper to bumper most of the way," Zellner said," and I was able to make a good move on the last lap to put myself in position to get to the finish line first."
After borrowing brother Gabriel's car and running third during Clash at the Creek, Zellner has fifth, fourth and now first-place finishes to show for his last three starts in his own 2019 Razor Chassis at 141.
From New Franken, he's headed back soon to Michigan Technological University in Houghton to begin his final year of studies toward a degree in mechanical engineering.
Feature results – 1. Jacob Zellner; 2. Dylon Waldvogel; 3. Elijah Koenig; 4. Cory Kemkes; 5. Jake Carpenter; 6. Timothy Warner; 7. Ryan Schmidt; 8. Jason Zdroik; 9. Gabriel Zellner; 10. Tim Sheppard; 11. Bruce Belland; 12. Will Garceau; 13. Brett Berry; 14. Chris Budzban; 15. Tyler Sobiesczyk; 16. Jeff Steenbergen; 17. Cam Reimers; 18. Jarett Franzen; 19. Jason Jach; 20. Cole Suckow; 21. Skyler Woods; 22. Cole Czarneski; 23. Craig Dorner; 24. Jeff Schmuhl; 25. Colby Fett.